I'm sort of new here, but I love looking at all the fabulous projects.
I just figured out how to make one of my patterns (New Look 6882) reversible. I picked a really easy pattern, but I'm proud of myself for figuring it out.
It ended up way too big for my two-year-old, but perfect for my 4-year-old niece, who is the one in the pictures. I think it would be darling over leggings. I was doubly happy with it, because the swirly side is pillow case, which I cut at the seams and used just for the fabric. I can't decide which side I like better. Maddy says she likes the swirly side better.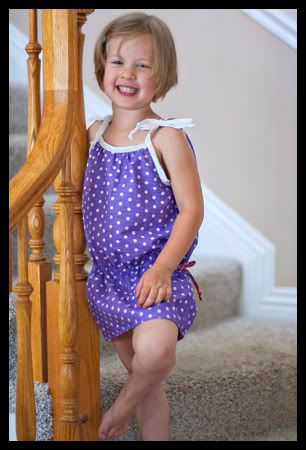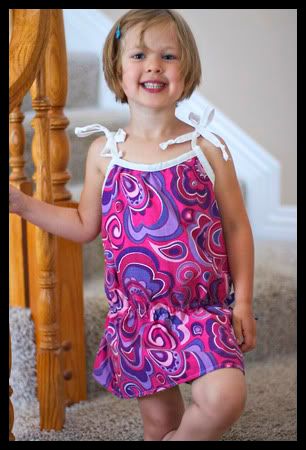 So, basically what I did was cut out two of the dress pattern. Sewed up the sides, gathered the neck with each of the two fabrics, then pinned them wrong sides together and put on the double fold bias tape. Sewed it on the arm openings as well.
The hardest part was the hems. I ended up just turning them under, then top-stitching both sides. I loved how much easier the casing was to do than in the original pattern. I just sewed two parallel lines, then unpicked one side seam between the lines and used that to thread my elastic through. Then I did the bows on the side.
There are more details and pictures on my blog, if you want to check it out at
www.craftastical.com
. Thanks for looking!