one year when i was younger(around 9 i think....) i made scarves for my grandparents by taking a piece of fleece and cutting slits every 1/2" (maybe it was 1", it was a while ago) and tying knots where the fringey stuff met the body of it. A whole yard of fleece only costs $5-6, or less if you can find it one sale or have a coupon, and our scarves were about a foot wide so.....under $10 for 5 grandparents (one was a great grandma) and you can find fleece in favorite sports teams for the grandpas. of course, they
did
get packed away after winter, but my grandparents still have theirs. ours looked kind of like this
you could also make the tied fleece blankets that look like this (featuring my favorite team!!) the only thing about this pic is that the tie tabs are a little bit small--its easier to tie them if theyre longer.....
my cousins made sequined candles one year....they took pillar candles and straight pinned coordinating sequins on then. they looked kind of like the picture below, only with sequins instead of rhinestones, and not those colors.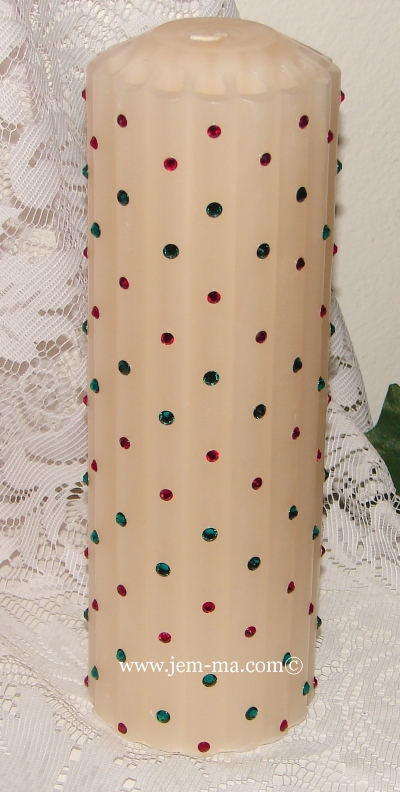 you could make jar candles, or soaps. (with parental supervision, of course!!)
if you look on the bath and beauty board theres all kinds of tutorials for soaps, scrubs, lip balms, and glosses, i think i even saw some for bubble bath and lotion. The grandmas and aunts, and probably female teachers would probably LOVE a basket filled with all kinds of stuff like that. Throw in a scrubbie pouf and a candle or two (could sequin them like above) and wrap them in cellophane and it would be an awesome gift.
i bet your girl would love to learn how to make jewelry, i learned when i was about 10-11, and i still make jewelry. Bracelets and the like can be made pretty cheaply, even michaels and hobby lobby have some nicer quality beads now.
they could make a "fill in the blanks" scrapbook, with some parental supervision. Put in pages for holidays/trips/activities the like to do. and you could work on other stuff while they were doing that. just make sure they glue and cut things straight. 8x8 scrapbooks come together pretty fast.
if any of the people you're making the gifts for knit or crochet you could make some stitch markers.
my mom always made homemade drink mixes for teachers and stuck them in a basket with a winter themed mug. you can find mugs pretty cheap on sale at kohls or target, and the mixes can be found by googling "homemade (latte, chai, spiced cider, hot cocoa, etc) mix" and can be made by the older child without much supervision--its just measuring, mixing, and sticking in jars.
you can work off the above theme and do a cookie mix and package it with a set of measuring spoons/cups, rolling pin, cute cookie cutters, and a cookie sheet (target and michaels usually have some in their dollar aisles during holiday season, and dollar stores would definitely have some)
....theres probably some more, and if i think of them, ill definitely start another list!
--kenzie