Great ideas, everyone. My friend who I share booths with is always having issues with a top-heavy clothes rack. Any ideas, besides getting more racks?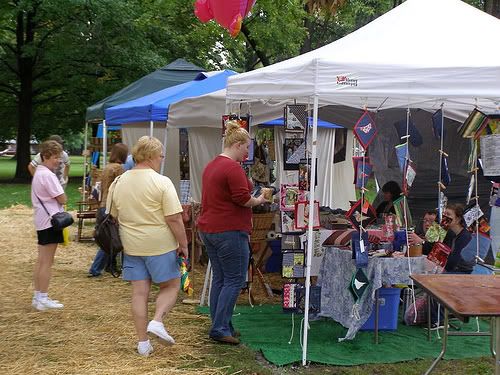 This pic is of a festival that Amaryllisroze and I did in September. It had POURED rain up to an hour before starting time. I brought my Astroturf sheets to keep from gettng muddy.
I hang my potholders from clothesline, which I've knotted at 8" intervals. It is cheap, easy, and eye-catching. The ropes would also work for you purse gals.
This photo is from a much drier, hotter time--Gypsy Caravan. My friend bought the Astroturf, as we were on a blacktop parking lot, and wanted to keep a bit cooler. It worked quite well, and may have even brought in more customers, as it was different.
Also note the cinder blocks tied to the tent pole legs. Don't be one of those folks whose booth blows over and takes out all your neighbors!
Please ignore my sweaty, messy hair. It was so hot that even though I drank lemonades all day, I didn't have to pee. St. Louis weather blows.
Looking at the first photo, I really need to make/buy a better tablecloth that goes over the sides.
Any other suggestions?