Hi! I've been lurking for a while and finally joined. I had been reading a lot of the felt monster threads and since I had just bought felt to make flower pins out of I thought I'd make a stuffed animal. I followed Nina's tutorial, except I had to do it all by hand because I don't have a sewing machine. And I had no embroidery thread so I had to just kind of double the thread to make the eyes. If that makes sense.
I really can't sew. I haven't in ohhh...maybe 8 or 10 years? And before that I had very little experience. But I want to learn how so I thought this would make a good small project to do first.
Let me know what you think!
Ferdinand the cat:
And to demonstrate size...my cat's the size of my mouse: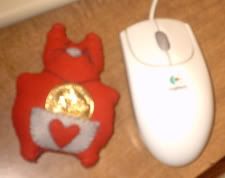 Showing off his stylish pocket: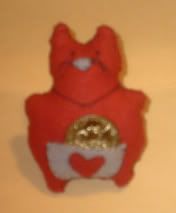 And this is what his back looks like:
Since I'm planning on learning to sew, I'm thinking I may use him as a pin cushion... Maybe keep small thread in his pocket.
Oh, and I forgot to mention: I'm sorry about the blurry photos but my good digital camera's dead and the only one I have right now is the one that came with my printer. But hopefully you can see enough detail.