Wow.... what unique and stunning women we have here at craftster!
I'm in love with all of you!!!
Many of you remind me of myself when I was younger with the hot pink hair...
Now, at 25, I have to look semi-normal in order to make enough money to support myself and my musician husband.... so here is me now....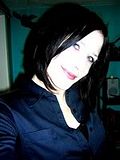 Boring as can be..... The only thing that bothers me about it is when I go to shows and kids look at me like I'm not punk enough to be there. I get a little defensive about that. I tour managed and was the merch girl for various punk rock bands for 5 years. So I'm like "Listen here you little shit, I was on tour with your favorite band before you knew who they were and your idol sends me a birthday card every year and calls me about girl trouble.... who's punk rock??" Of course I say this to myself only.... In a failed effort to be mature... hehe