Hey everyone,
I was wondering if someone can enlighten me. I have an idea for a shirt I want to make and I want this kind of neckline....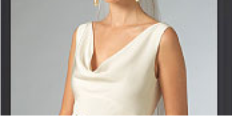 I can't picture in my head what the front piece of the shirt should look like when I cut it out. If anyone can do a really rough schematic for me on how to accomplish this, or any advice I'd really appreicate it!
Thanks in advance for any help.