Wow! So much cool stuff the fern pillow is incredible looks so real!
Got my super package from Clobo_the_hobo didn't know what to expect for my first swap but she totally spoilt me! I was in work all day alone so I opened one packet every hour just to drag it out.
She wrapped everything so beautifully.
Each package had what the theme was on it. Heres the super cute robot.
First one I opened though was this great little bag. I think this was for Nature theme. (I have such a short memory!) It will be perfect for going to rock and roll do's etc. I love the fabric so much.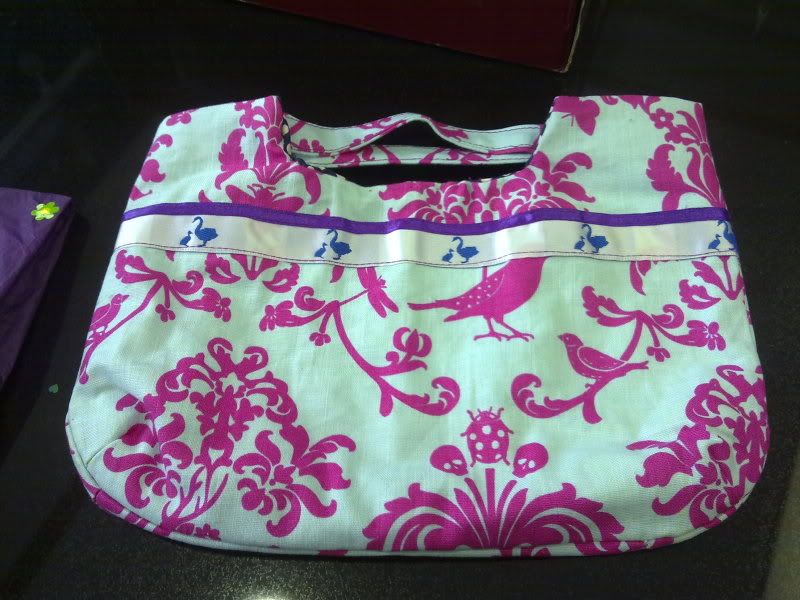 Next up was pirate theme cusion cover. I love it so much and currently have a pink throw on my sofa so it goes so well in my living room.
front
Back
Next was 40's & 50's I told her what some of my favorite films were (High Society, On The Town etc) and she used them to create this awesome frame. I'm so rubbish at ever getting any pictures printed out so now this gives me a great reason to do so.
Next up is Flight of the Conchord! She made this great Business time t-shirt! Yes its a little tight at the moment but i'm in the proccess of loosing weight so this was an added insentive!
Sorry my pictures a bit rubbish for this one.
And finally!!.... Robot!
I didn't tell her but I have a thing about girl robots. Most robots are boys and girls get totally over looked. She has a cute purple bow on her head (didn't come out in the picture
) and some buttons from her Gran and Mams stash. (I love using my great grannies stash buttons so I totally love this) She said she was called Clobo at Clobo_the_hobos house, I think that sounds great to me.
I think shes already fallen for my neighbours windmill.
She also sent me a couple of little extras some hand made envelopes out of magazine pages, stickers and some paper. Also a cool skull stamp which will come in very handy.
I'm so greatful for everything, thank you so much. This was an awsome swap so glad I picked this for my first to. Hope you like everthing I sent you too.