Here's my "crafty" tattoo-- it's actually a bit more than that also...I designed it myself.... and it involves my 3 passions/loves!! and is also a memorial tattoo for my beloved pet Hedgehog Marigold!! She was the sweetest most adorable lil' thing I had ever seen (besides maybe my daughter). I miss her dearly! anyhow MY tattoo represents My love for Marigold/hedgehogs, My love for drawing/writing, and my love for my beautiful daughter Reina!!
here is the original sketch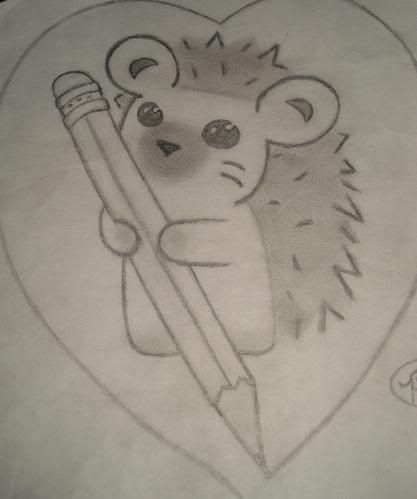 and the Tattoo which was altered a bit to add my daughters name instead of the heart
C&C welcome and appreciated
Oh... I intend to get this touched up sometime soon as I got it done early on in the summer and then spent to much time in the sun and it faded quite a bit-- I'm also having my daughters birthday added to the pencil (as the writing that is usually on a pencil)!