I'm so excited I got my stuff today from Girlwonder! Thank you so much! I love all of it! Here are some pictures of the awesome stuff I got!
Here are the magnets of the Smiths album covers (already on my fridge I might add):
The Smiths box:
Inside the Smiths box with cool bracelets and lyrics to my favorite Smiths song Please Please Please Let Me Get What I want:
Reconstructed shirt with "I Heart Moz" patch:
And my favorite a Morrissey bag: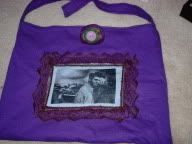 This stuff is so awesome! I can't wait to show my friends. They are going to be so jealous! I can't wait to see what everyone else gets too and I hope that everyone is as happy as me so that we can have a part 2!