my sister's birthday is coming up and, apparently, her favorite animal is a pig. so i decided to make her a raggedy pig. he is simply stuffed with rags from previous failed attempts at anything and cloth strips that were lying around. he doesn't really serve a purpose, he's just cute. only problem is, i can't figure out what to do for a tail. ideas?
here are the fabrics that i chose - it is two sided so two different colors.
i started with a nice drawing, with the help of my handy dandy compass!
then i proceeded to sew him up. here is a picture of one side, then the other.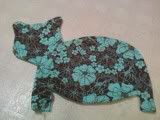 and finally the happy pig's face!
...he looks rather like a cat.