i made this for a girl that i was friends with. We were going to a goth night, and the theme was circus//masquerade.
It took about five hours. That is including designing the skirt, cutting out the pieces, hand basting the pleats and sewing it all together. It is made out of Day of the Dead fabric from my stash, Black&white striped cotton and lace that i've had forever. i recycled the zipper from a pair of shorts.
Sorry for the terrible pictures, but my photobucket is doing odd things and i really cannot get better ones.
My lovely and patient body pillow is modeling the skirt in the first shot.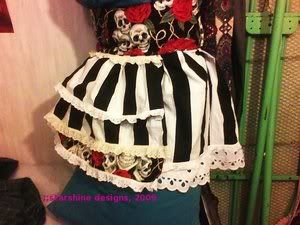 This is the only picture i got of it on Cheshire. Taken with a cellphone, in a dimly lit house. Before all of her makeup was on. We were going to do an actual photo-shoot. But we had a mild falling out.