So, this is my first post of my work to Craftster despite having lurked here for well over a year.
I'm twitchy and a little shy, what can I say? LOL. I'm almost constantly making things, but I never remember to take pictures in the process, etc. and then I don't want to post just the finished product. Well, I'm finally buckling down to do it by showing off three of the costumes I've made. It's taking a lot to ignore how bad they are because I've really improved on my sewing skills. XD
Slymenstra Hymen from GWAR
I made this for Halloween 2007. It's the chick that used to be part of the shock rock band GWAR. The entire thing is made from materials I got at Wal-Mart and threw together in less than 6 hours. The boots were already a part of my closet. The armor is entirely made of white posterboard which I cut, folded, stapled, and then spraypainted to make look like metal. It's built on a plain black bra.
Zatanna Zatara of DC Comics
Zatanna is probably one of my favorite comic book characters. Since this picture was taken in August of 2008 this costume has gone through several changes. The jacket is now scrapped, the sleeves of the tuxedo shirt have been taken up, and I'm in the market for a new top hat as the old one is about to cave in on itself. Hopefully by Origins Game Fair this June, I'll have a yellow cummerbund to replace the vest as well. The shoes aren't visible, but I wear knee-high black vinyl boot spats over black heels.
Gijinka Lickitung of Pokemon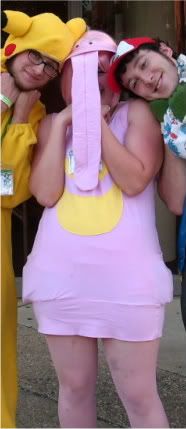 Lickitung is one of my favorite Pokemon (though I can't figure out why since it kinda sucks in battle). I made this in 2008 as well. It's all jersey fabric and an altered Simplicity pattern whose number is lost to the ages. The part I love most about this is the visor, which the tongue is actually attached to.
The gentlemen on either side of me are from the Pokemon fan-band Ultraball.
Thanks for looking! Hopefully I can get some more recent works up soon.