So, I had these
boring
, ratty, old dress pants taking up space in my dresser, and I had always liked how they fit (I like a high rise it smooths out the hip/thigh area) but the fabric was just some poly blend and they were getting ratty at the hems, so I decided to use them as a pattern for a new pair!
My local fabric store had this wicked grey suiting fabric on sale for $3/m that I found and I knew they'd make an awesome pair of pants... sooo here's the process.
The original pair of pants...
I started taking them apart with my handy-dandy seam ripper.
Layed out all the pieces so I understand what pieces were what.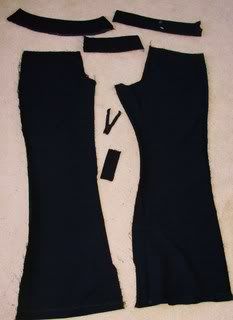 Then I pinned them to my fabric (sorry, no pictures for this) just like I would for a pattern, cut them out, and I looked an my original pant pieces to see which ones needed interfacing and interfaced them.
I then used
this tutorial
online for piecing the pants together. They explain two ways to do a pants zipper, which is nice.
And here are the finished pants. I didn't put buttons on yet, but that's because I want to pick up some really neat brass ones or something...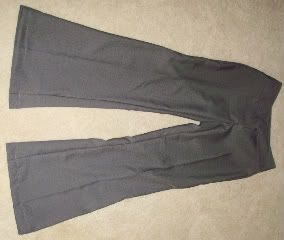 So what do you guys think? I saved a bit of money here because I didn't need to buy a pattern, and I already knew how the pants fit, so I saved a bit of trouble... I feel all smart
EDIT: Photobucket is not working very well, it keeps distorting the photos, and it's freakin' me out.