So my baby brother is getting married in 3 weeks. 2 weeks ago my sister and I were chatting with our awesome SIL to be and she told us that, because it was so expensive, she was going to forgo having a wedding cake. Well, we couldn't let her go with out, so even though neither of us has ever done anything of the kind we volunteered to make her a wedding cake.
She wants chocolate cake with raspberry filling and buttercream icing.
So first we made a test cake. We made the top 2 tiers. There wasn't quite enough batter so it's a little short. And we were experimenting with the dots. There is obviously room for improvement. The taste was awesome though. We used
Smitten Kitchen's chocolate cake recipe
. It has both cinnamon and chocolate in it. We filled it with raspberry jam. Yum!
And we baked the whole thing for a wedding shower yesterday. We learned a lot from this cake. 1. ribbon covers a multitude of cake sins. 2. bulging filling is a pain 3. coloring icing is a pain, thankfully the actual wedding cake will be white.
I think we may need to change the sizes of the tiers to get more difference between them.
Any advise, comments or suggestions would be welcome.
****UPDATE****
Well the wedding was this weekend and it was wonderful.
I was really happy with how the cake came out. It gave me a few heart attacks, but was ok in the end.
First I want to that everyone for their encouragement and help. The link to cake central was especially helpful. I lurked around there quite a bit and learned a ton.
I torted each of the layers because the cake I made for the shower seemed to need more filling. I couldn't use jello in the filling because the bride is a vegetarian and dosen't eat gelatin, so we stuck with straight raspberry jam. This is the top tier. It's a 6" cake.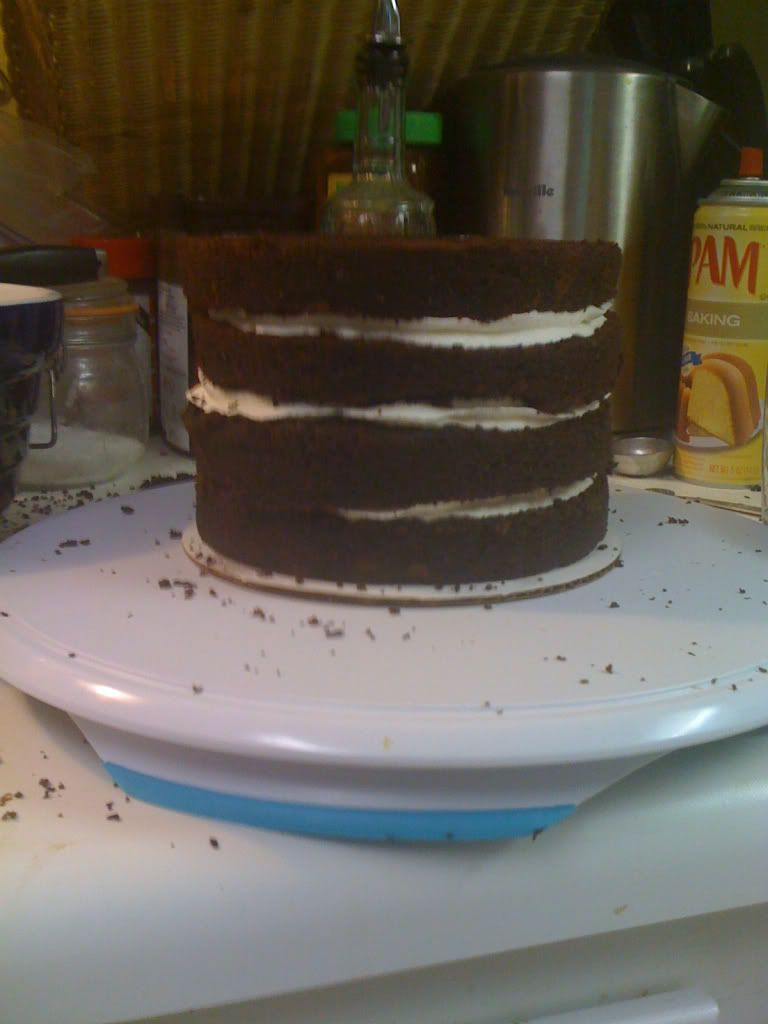 Leveling is hard and the wilton leveler sucks. I wound up mostly free-handing it with a big bread knife.
On the way to the wedding location the bottom tier slid about an inch off of it's cardboard. It was crazy hot here and we tried to keep it cool, but I guess it warmed up a bit too much. I tried to fix it, but was just damaging it so I gave up and called that side the back. If you look you can see it in one of the pics.
These are quick pics taken with my phone. There were flowers added to the top and a few to the side of each layer, but by that time I was running to change clothes and get my dd (a flower girl) dressed and ready, so I'll add pics w/ the flowers when someone e-mails them to me.
So here you go.
see the cardboard?
and the front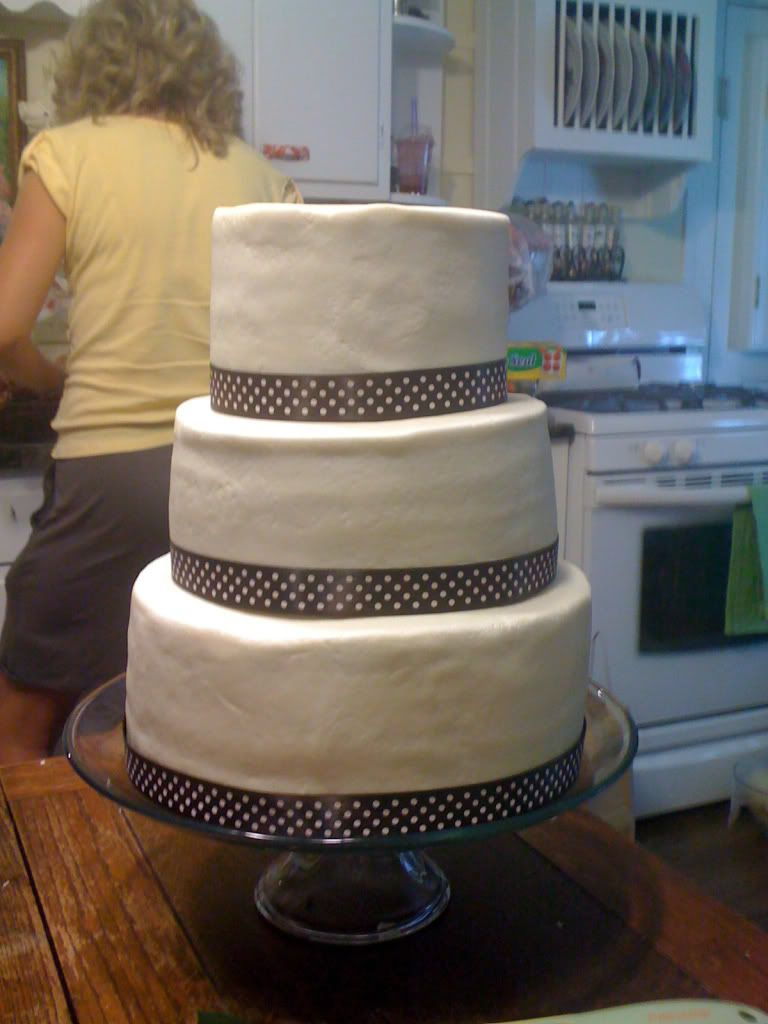 And the finished thing. Pic stolen from my sister.