Hi everyone! So I work at a big thrift store, and we are required to dress up for the whole two weeks before Halloween. (You can also wear a company Halloween t-shirt, but that's not a very cool thing to do). Thus, here are my two weeks worth of costumes, most of which are handmade in some way. We had themes for all of the days too, so they're listed before them.
Harry Potter day - I was Luna:
Dead Historical Figures day - I was Vincent van Gogh, complete with fake blood on my left ear. People would be like OMG YOUR EAR IS BLEEDING and I'd be like, yeah, it's fake. I'm van Gogh, get it? (and then sometimes they would be like ... so? and I'd have to explain that he cut his ear off, wrapped it in some newspaper, and gave it to a whore. Fun.)
I hand-painted the shirt (bought the original one at the store I work at).
Classic movie villains day - I was a vampire.
hehe.
Nintendo day - I was Link.
Altered the tunic thing, made the hat out of spare fabric (was super easy, just a triangle with elastic casing)
Zombie/MJ/Thriller day - I was a zombie, specifically inspired by that one childhood story about the girl with a ribbon around her neck which keeps her head on, and if she unties it it'll fall off.
This link is to a detail shot of the neck makeup/makeup in general. It's kind of gory and looks a bit scary I guess. If it's going to be too much/a trigger/something bad, don't click it. -->
http://i175.photobucket.com/albums/w138/londonhearts/closeup.jpg
Rocky horror day - I wasn't a specific character, just followed the general vibe of the show.
Made the shorts (hot gold fishnet layered over pink jersey) and black coresty thing with beading.
Indiana Jones day - I didn't know what to do for this one, so I made this the morning of. I was the pit of snakes:
Made sign/headband, and snake shirt/shawl thing.
"Bestest costumes" day - I was Artemis:
Made the corset (details below), the "leaf" crown thing, the skirt, and the bow.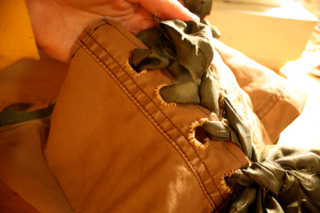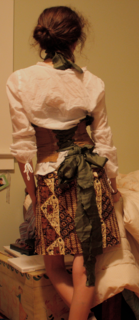 Whew! Hope you guys enjoyed it, and sorry for the total pic spam-age.