My friends & I planned on doing a Candyland theme for Halloween this year, for about a year. We made our costumes basically from scratch out of already owned articles of clothing, cheap, or borrowed.
I went as Princess Lolli!:: I found a yellow dress at Goodwill. I shortened the length & scalloped the bottom hem. I also lowered the neckline & cut off the ugly sleeves & shoulder pads. For the lollipops, I took fat quarters & cut 2 circles out of each one (4 colors, 8 circles total) & sewed them up so they would sinch. My aunt calls these yo-yo's. Then I glued the yo-yo's to painted popsicle sticks & stuck them to my dress! For my crown, I painted a stitching hoop yellow, & glued lollipop tree ornaments to it. My necklace & earrings were also tree ornaments that I made into the jewelry. I painted the wig purple & bought me some red flats & OUT GAME PRINCESS LOLLI!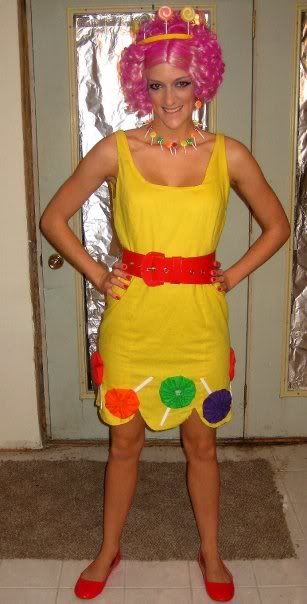 My boyfriend went as King Kandy. He has the most intense costume of them all. I got a red long sleeve shirt & the gold skirt at Goodwill. I then cut white strips of fabric out of an old sheet for his skirt. I cut 8 circles out of the sheet & made yo-yo's. Then I just glued red pom-poms in each yo-yo hole. For his shirt, I just used gold glittery puffy paint on this shirt, to make it look like the characters shield. I found bubble wrap, that I painted purple & attached those to his forearms- as grapes. The shoulders were just fabric from the sheet, sewed & stuff & red duct taped. His hat & top of the septor were made of fabric, metal cookie containers & strofoam rings!
Crown: Ring was wrapped in duct tape then put on the bottom of a plastic basket which I painted brown. Then I glued white fabric from the sheet (painted gold) to it & stuffed it with stuffing. I then glued on white fur to make it look like the frosting. Added some pom-pom's.
Septor: Basically the same as the crown, except I did actually use a brown tin cookie can. I attached it to a closet dowl that I painted white & wrapped with duct tape.
Then he just wore white tights & his own shoes. & I borrowed the sequin fabric from my cousin for his cape! His costume had the most pieces & the most glue involved!
King Kandy w/ Princess Lolli::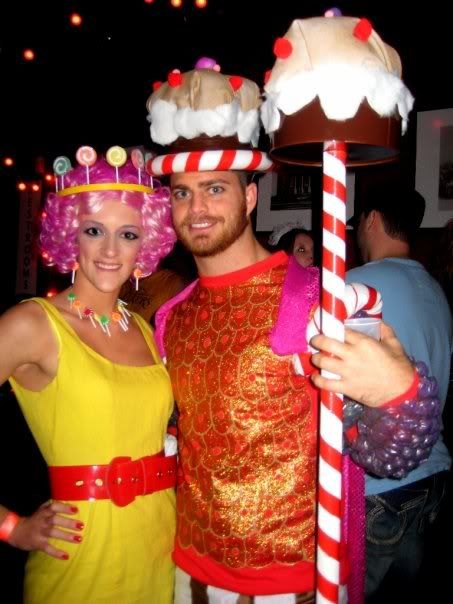 Queen Frostine used an old prom dress & added white fur to make snow. Then she stuff the underneath with fabric & tulle. She used a wooden dowel as her septor & covered it in glitter & used a tree ornament on top. She bought the crown but added a few pieces. She bought the gloves & the wig, which she painted blue.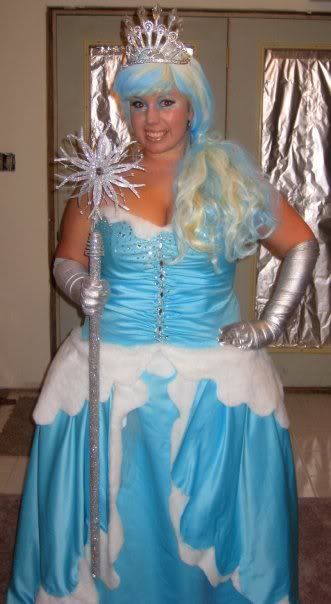 The boy: we just bought him a shirt at Goodwill & borrowed some overalls!
Gloppy: we found a sweet brown suit at Goodwill & then painted the dots on the tie.
Plumpy: he wore his own shorts, socks & his own shirt. I painted the suspenders green.
Ms. Mint: She added pink puffy paint to an already stripped shirt. Bought the tights & the tutus. The shoes, we added glitter & the laces. & then we just bought the sequin trim & used those as suspenders.
The whole group: