ive been meaning to make ballet flats for aaages
i studied footwear design last year and as i am poor and not able to afford all the bits and bobs ( a singer shoemaking machine oh how i luv thee!) to make my own shoes i wanted to give flats/slippers a try.
and after seeing iheartthomys tutorial ages ago i decided id finally get round to it...instead of just daydreaming about it
so this week i finally finished my mock ups/pattern that worked...took 3 attempts!
and made these --->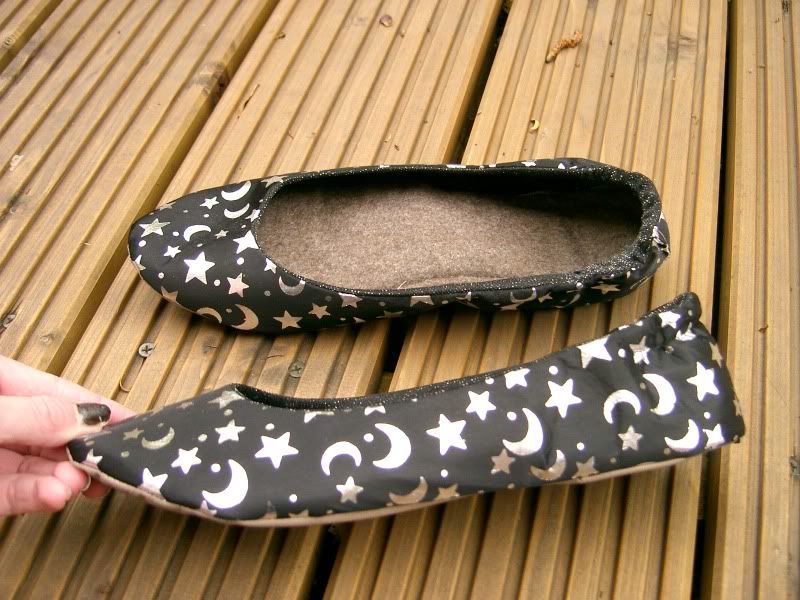 please excuse my spazzy feet.
im gonna make more now -its actually easy peasy once u get a pattern that works
theyre quite similar to the tutorial on here apart from i used a lining too, and elasticated the counter back piece.
oh and i put extra support inside by gluing some thick pleather and felt covered foam (insole) inside.
I'm making a spotty pair now, will post when finished.
i love shoes.
UPDATES-
i changed these slightly to add some pizzazz (cool word) and made a new pair (the spots)
onto my third now which are red, white and spotty,
i will try to get a tut up for the pattern asap, ill take pix while im making my third ones!
thanks for all ur lovely comments! x