Happy Halloween everyone! Here is the costume I made this year. I went as Donatello, the nerdiest of the ninja turtles. It was a hit with my friend's aunt, apparently. I used an old brown sheet and a t-shirt from a summer camp I did at my town's university.
Practicing my ninja skillz in the mirror:
awkward view of my shell: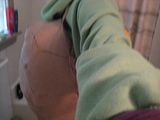 Ninja pose in the hallway: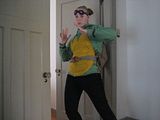 This was a controversial matter among my friends. We decided that since a ninja turtle has ninja powers, it would be able to get itself flipped over if it happened to be stuck on its back. But here's a pic of me stuck on my back anyway.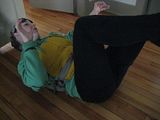 This is a pic of my shell.
And, here's my rock hard six pack I've been working on...