I'm going to a conference next week and wanted an easier way to haul around my 150+ Prismacolor pencils. I made this out of some leftover material, and now I can just throw all my pencils in a bag without them spilling everywhere.
I put a "lip" at the top so the pencils can't slip out once they're rolled up.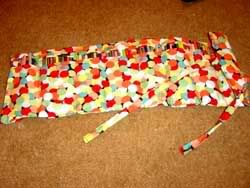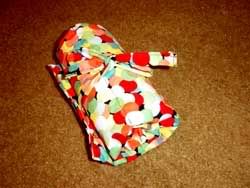 My cat Thomas thinks everything is a toy for him.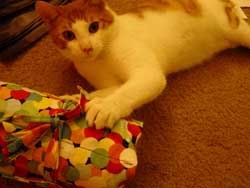 how to make it:
1.) i took rectangular pieces of fabric (about 24"x 9"), and placing right sides together, sewed 3 sides together, then turned them inside out and finished the remaining side seam.
2.) make the "lip" by turning down the top edge 1" or so and stitching up the side seams.
3.)add a pocket (i'd turn the pocket edges under to help it resist wear and tear, or even add a "lining" to it so no art supplies can snag it) that runs the length of the base, then stitch up vertically about 8 or 9 times to form the pencil pockets.
4. ) figure out how the case rolls up and mark your ties. i used the same fabric (1 1/2" x 12" strips) with the edges turned up and then folded over double (now 3/4"x 12") to add strength. if you use ribbon i'd stick with a sturdy one that won't fray or stretch.
5.) attach the ties, stitching once and then 3/4" over to, again, add strength.
fabric choices: obviously, the thicker and tougher the fabric, the longer it will last. lining the pocket and having a double-sided (and in effect, lined) base helps this be extra durable. i picked a tough cotton i could throw in the washer when it became too smudgy with pencils. corduroy might be too hard to stitch through (with 3 or 4 layers), but a dark colored one wouldn't show the "grime" so much. also, lining the inside with vinyl or plastic and making the pocket snap off or down would make carrying watercolors, charcoal, or other messy supplies easier to clean off.
maybe too much info on the fabric choice but i hope it's helpful.
something i'm going to add is a small snapping pocket on the outside to hold an eraser and sharpener so everything is together.