I am waaaaaaay too easily amused. After knitting odds and ends, I decided I had the courge to try cables. My first foray into the world of weird needles and twisted stitches ended up a fairly successful Basic Cable hat from S&B Nation.
I am terribly pleased with it. As I am sure you have noticed. You will have to ignore the scary chick in the pics. That would be me after drinking half a pot of coffee. Zing!
I didn't follow the pattern exactly, mainly because I did not have the right needles, so I did the main part on size 7 circs and then ended up downsizing to size 5 dpns since I did not have size 7's I think I should have made it a bit longer and I think I will when I do the next one.
Oh, and the yarn, that is the color hollyberry in the Wool of the Andes by KnitPicks. I rather like it. Its not as smooth as cascade 220 but still real pleasant to knit with. Good feel, at least in my uneducated opinion. Very intense colors, btw. Not sure if that shows up in the pics.
For those of you who are chicken about trying cables, don't be. Monsterous easy they are, yes yes. If I can do it, you can too.
Coooooofffffffeeee!!!! Yes, still on that caffiene high, yep, definitely.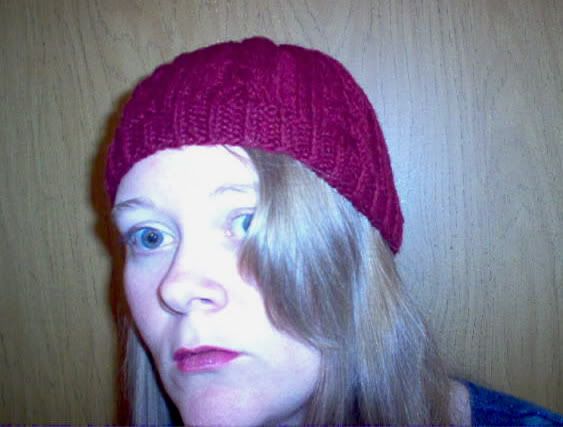 And here is a closeup of the cables since I know you were all on the edge of your seats waiting for this very image.