I have always loved this song. I am not a Beatles fanatic but this song has always been a favorite of mine. It's the first song I learned to play on the guitar (and the only one I still remember!). We chose this song to play at my dad's funeral last year too because it is uplifting and hopeful (Look below the picture for lyrics and such). Here is the bird I made:
I took a literal translation of the verse:
"Blackbird singing in the dead of night,
Take these broken wings and learn to fly,
all your life,
you were only waiting for this moment to arise"
Here is the Youtube link to my favorite version of this song:
http://www.youtube.com/watch?v=fXiOwqMEUC0
And some of you may remember the song was redone by Sarah McLachlan for the movie "I am Sam". Here is a link to her version (also on Youtube):
http://www.youtube.com/watch?v=g3VrggQW7tk
Here is what a blackbird actually looks like:
It's hard to see the detail in any of the pictures I took so I will try and describe it as best I can. I started with plastic grocery bags and a black plastic hanger that was cut down to just a straight piece. I formed the bird body with the plastic bags around the hanger piece and used black duck tape to hold it together. Here are some pics of that: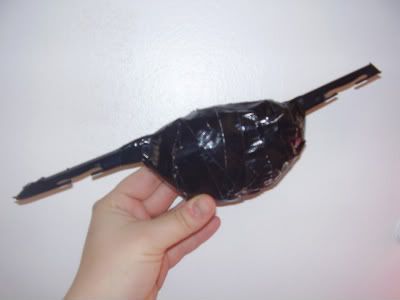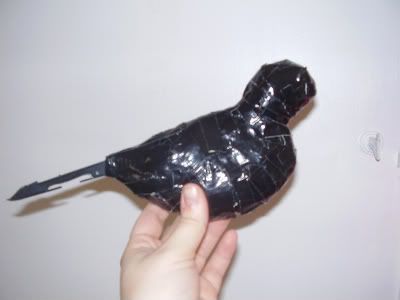 Then I made the wings the same way. I covered the body and wings by wrapping a sequin-covered black fabric over everything and wrapped black leather shoelace and silver wire over the fabric. I made the beak out of crunched up paper covered in embroidery thread and metal wire. The wings were glued onto the body and then I added white bandage tape around to show "broken wings" and then I wrapped a black satin ribbons around the birds body and wings. The finished project is a very beautiful and somewhat sculptural blackbird that will be perched up on a ledge in my house reminding me of my daddy and my favorite song.
P.S. Everything I used was found material around my house. Yeah recycling!