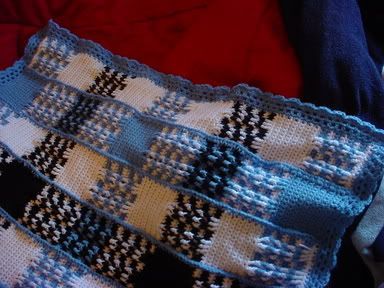 This is my attempt at the mommy blanket from
www.crochetme.com
if any of you want to try out this pattern it is from last months issue. I modified it a bit because I had to work fast, and alot of the time i worked on it away from the computer and i didn't ahve any ink to print out the pattern, so i would just guess, and i messed up the pattern a bit. I changed the boarder a bit because i didn't want to think about how to do it, so i just did it.
This was the first time i had used the double chain stitch and it took me awhile to figure out how to do it consistently. just keep your stitches loose with that one.
Then the treble front post stitches are a bit tricky to get used to.
all in all i think this took me around 30 hours to make, but i'm kind of slow honestly. i think it looks pretty cool.