Fiiiiinally stopped for 6 seconds to take some pics for you guys! (Posting these suckers everywhere, and emailing to everyone I know! hahahahaha)
Here's my ring!!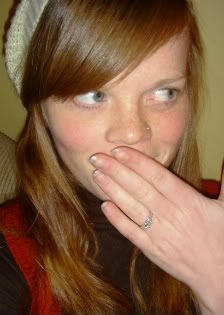 Excuse my ick hands- I'm a project mgr at a prototype shop (ie: lots of metal work, helping on the big machines and gernerally screwing my girly hands, lol)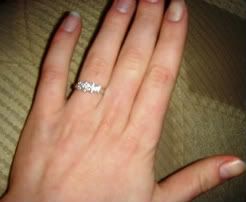 It's kind of hard to see because I don't have a clue how to change my flash lol but it's one of those 3 stone eternity rings, and I looooove it and the boy has the best taste on earth!!
To make this post swap related in SOME way- I have cast on for the biggest project ever! I'm super glad that we have so long to craft lol, I think this'll take me days and days! haha