Ladies and gentlemen (
are
there any gentlemen here?), prepare to be jealous!
I had a feeling my package would come today, so I snuck out of work for a few moments to check the post office box before it closed. Lo and behold I found my box! I ran back to work for the next hour or so, but I did peek a litt.e ;P
I was so excited for this little guy (and when you see him you'll understand!), so I just had to poke through the packages and find him even though I was still at work. Ronda and I agreed to swap a tree-themed dragon as well, and this is my handsome boy:
What's that in the paper...a dragon?!
Yes indeed, it's an adorable crochet little guy!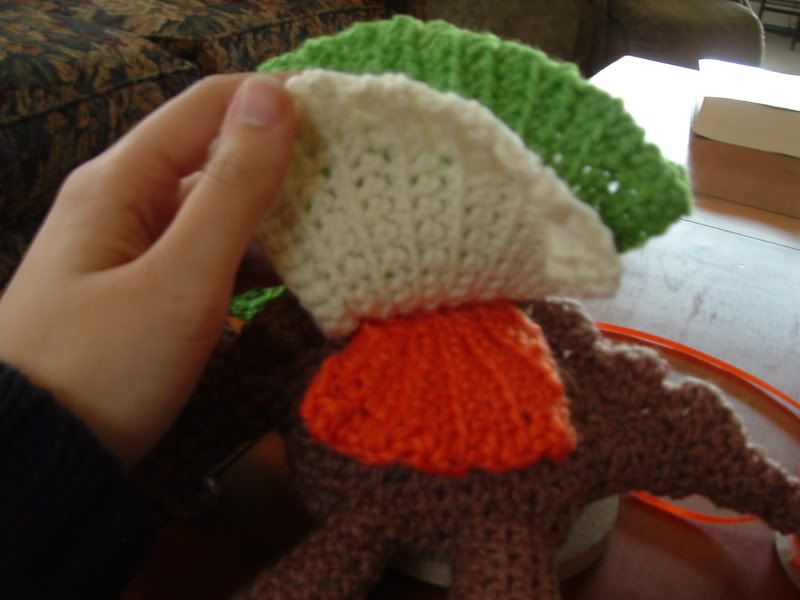 Showing off his wings! I don't know if this was intentional or not, but his wings are the colors of the Irish flag! I'm not Irish by far, but I love everything about the culture, so this was such a great little surprise.
And his butt. LOl! I'm still not sure what to name him though...I'm between Seamus and Cully (means :woods"). Any suggestions of Irish names? Anything pertaining to trees?
Next we have two absolutely beautiful scarves in these amazingly vibrant colors. I told Ronda I was a big fan of the fall, and she definitely used that in picking the colors for these scarves.
Scarf number one...this is complete love! I can't even describe how much I love these colors, and it's so long and beautiful!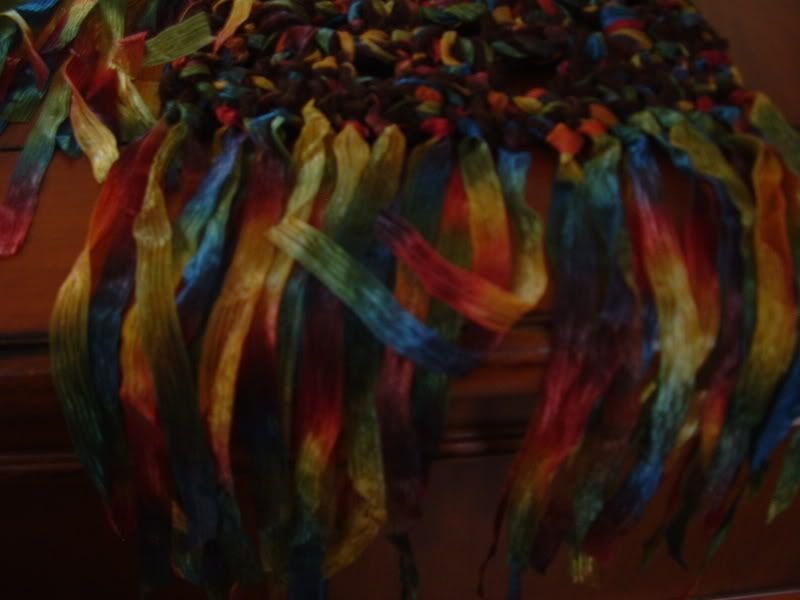 Close-up of the edges.
Scarf number two...Again, I am stunned at how beautiful this is! Such great colors (I'm going to look like an autumn forest!).
Look at the detail (ignore the blur).
Next, as the note said, sparkly things for me!
The pictures really don't even do these pieces justice unfortunately. What kind of stones are the leaves made out of? The beads are different shades of reds and oranges, just perfect for my style!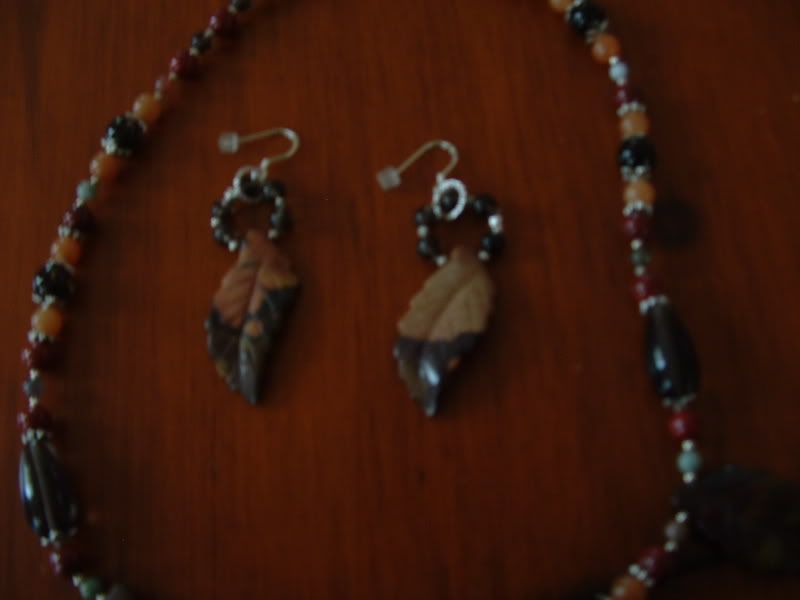 A little better picture of the earrings!
There was also this beautiful magnetic bracelet. I've never had one of these, and I'm so excited to finally have my own!
A closer picture of the bracelet so you can see the detail better.
And now some sparkly things for my tree! I told Ronda about a maple I have outside my window that I leave offerings on/in, and she made me some things for the tree!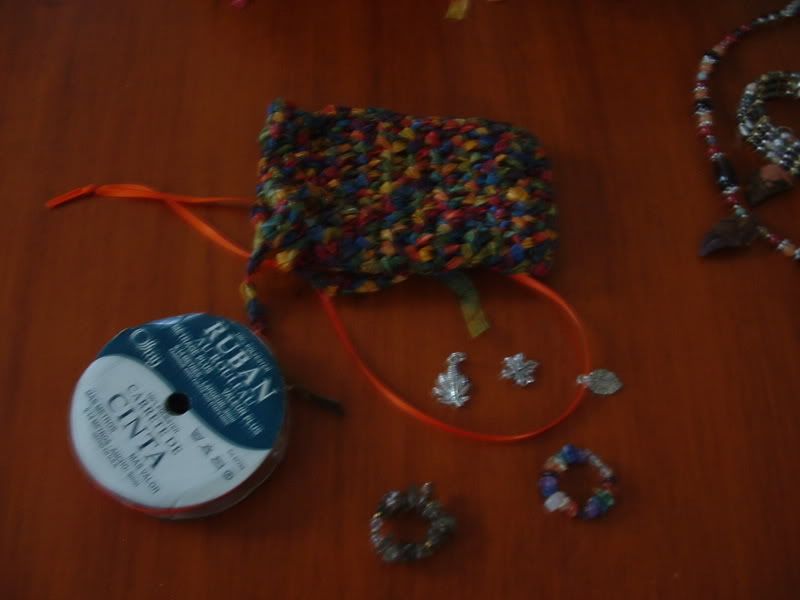 The items came with a lovely bag made of some more great yarn(?). She sent a spool of orange ribbon, one length with a silver leaf charm, two other leaf charms, and two circlets of stone. I love these!
Finally we have a beautiful little tree with unakite stone. Again, pictures don't even do this justice! And don't worry Ronda, it survived the trip.
Look at how cool this is! I don't know if you can see, but the small silver shape is a little turtle!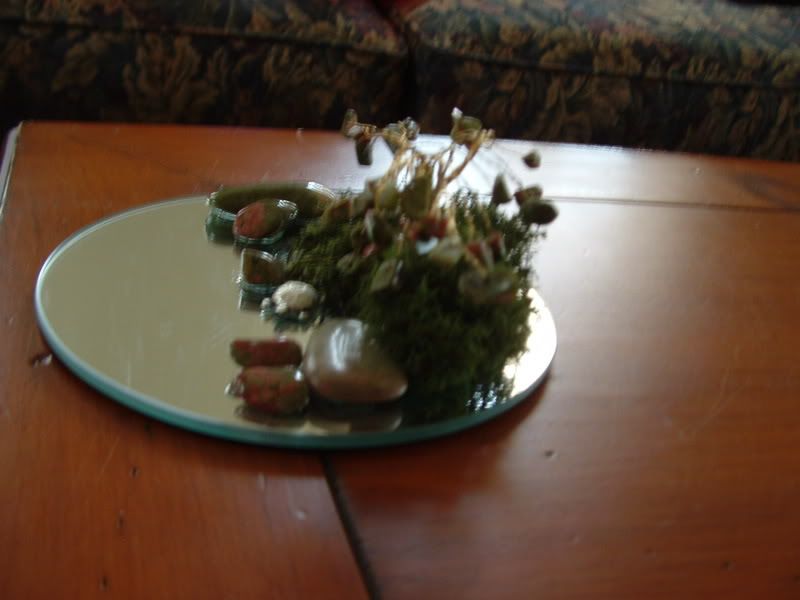 From the side.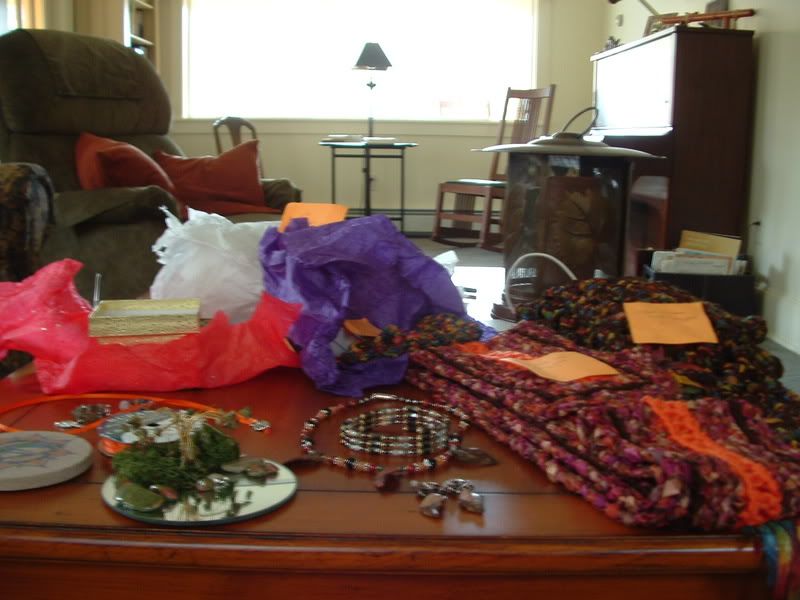 I could not be more happy with all my loot! Thank you so much Ronda, this was an awesome first swap!