(Action shots now added!)
When we found out that I was going to have another baby, our immediate concern was our first child. How could we ease the transition from only child, to big brother? Part of my plan was to buy him a toy to present to him around the same time we first introduced baby.
After a lot of searching, I came to the conclusion that I would much rather just make him a toy. Naturally, I left it till the last minute (I'm within a month of my due date now, and just finished it haha) and so the end result is a little bit hurried. I managed to complete the doll and outfit, from start to finish, in just three nights of staying up super late (early). Hooray pregnancy insomnia!
Also, this is my first ever poppet, dressed in my first ever major outfit alteration! I'm totally addicted now, I must admit.
The poppet pattern is, of course, a direct result of Ghilie's awesomeness. Thank you so much for being so awesome, Ghilie!
(
https://www.craftster.org/forum/index.php?topic=205341.0
<- More information on that!)
On to the pictures!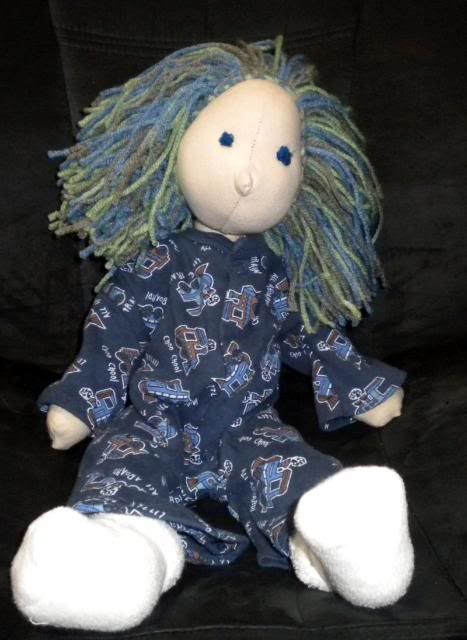 This outfit was a onesie (with feet) that my son wore when he was very little. It was sized at 3 months, and I shrunk it considerably. I took in the back, the sides, the arms, the legs...Got rid of the feet, and a few of the snaps. It snaps closed in the front still, but not down the legs like it used to.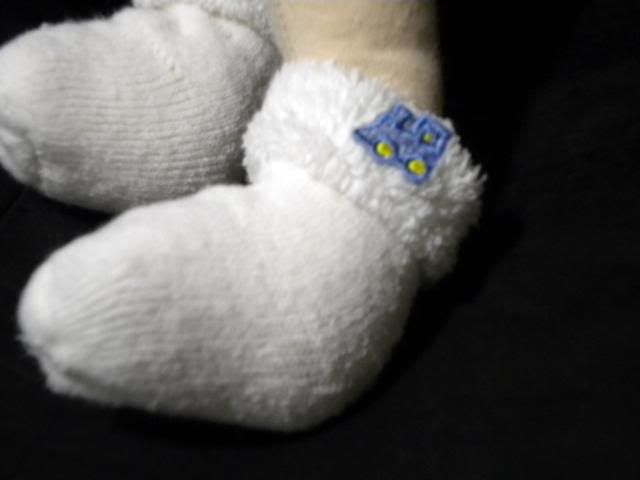 The socks I used are exactly as they were when my son was born. I think they're newborn sized, and they fit the doll perfectly. I chose them because the little train kind of matches the theme of the overall outfit.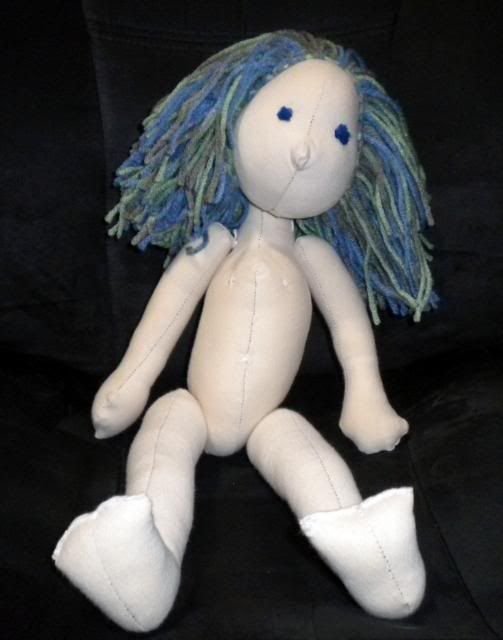 NAKED! I didn't sculpt the hands or feet, but I think it looks cute anyway. The thread I used was an interesting mistake... I threaded my machine with a perfect match to the fabric (an old t-shirt, in case you're wondering) but since it was around 2am, I guess it slipped my mind that the bobbin thread was a different colour haha... It's brown, and a little visible in places.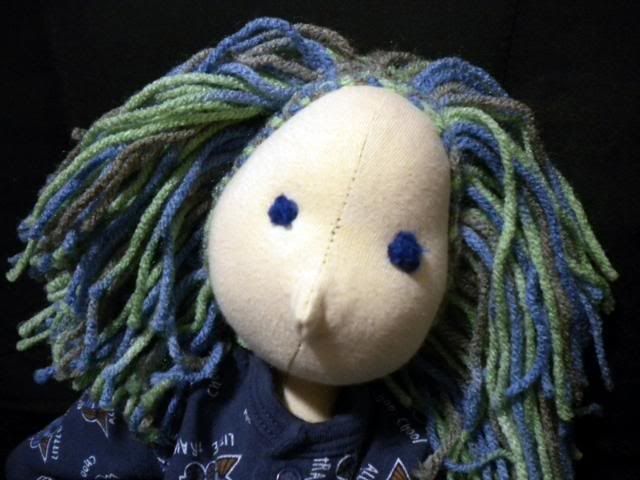 The adorable face... I used a really fuzzy blue yarn for the eyes. The hair took me the longest, but oddly not due to all the wefting. I actually took much longer hand sewing it all on to the head. To cover up my inexperience, I sewed a braid of the same yarn around the hair line to make it all look more even. Cutting the hair was fun, if a little frightening... all that work, I was afraid to mess up haha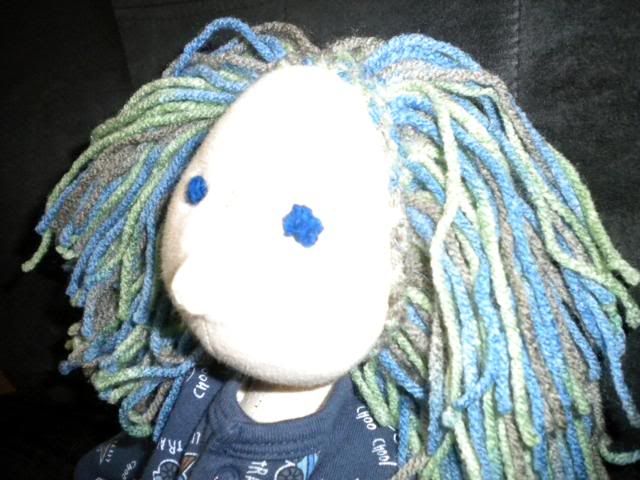 Another angle of the face. This one shows a better example of the colour the eyes really are.

When the time finally comes for my to present this, I intend to swaddle it just like baby will be, as an added touch. Tons of action shots will then follow! I hope he likes it as much as I do. (Wish us luck!)
TA-DA! Action shots: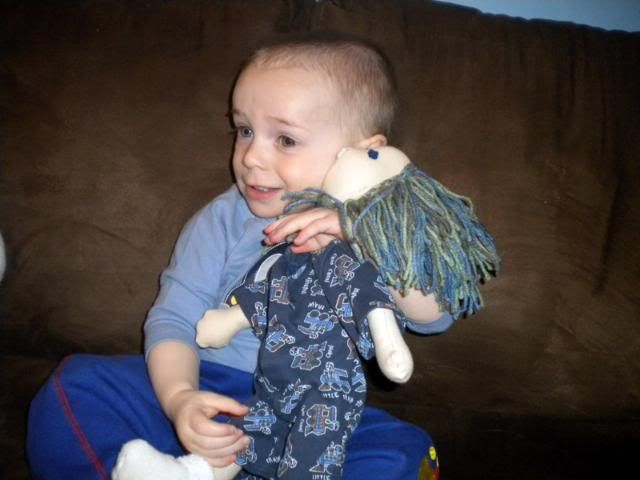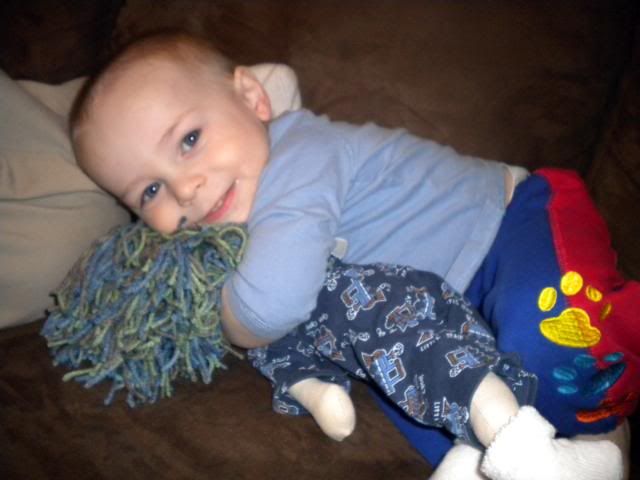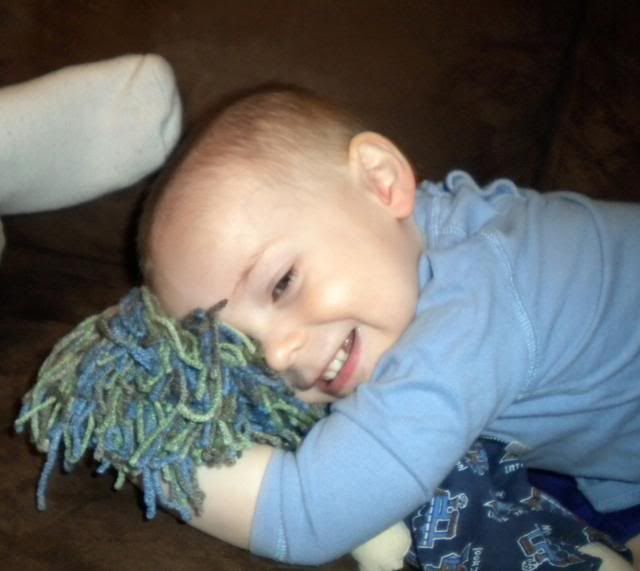 Thank you for looking!