what happens when I am extremely bored and randomly get inspired??
well 2 hours later you get this!
(excuse the horrible quality, these were taken on my webcam)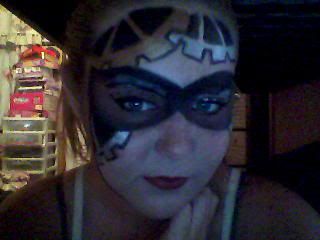 it's definitely not perfect, but I think it's pretty good for being 16 and having no real training. I'm pretty proud!
thanks for looking!!! feel free to comment on what I can improve or anything!
edit- just noticed how HORRIBLE the colors are represented in these pictures, the center of the main portion of the eye mask is a warm crimson/brown fading out to black around the edges. the silver and gold both had metallic finishes however all other colors used were matte.
edit part 2- here's a picture that's a better representation of the makeup