Thanks for the nice comments!
I checked out my kids toys for some of the items inside....
bell, round disk, buttons, barbie shoes (Missing the other one lol) Pencil top erasers, pom poms, beads, Letter beads, Pegs from battleship, shells, sport theme beads (football, soccer ball) Music charms, charms, fabric butterflys from scrapbooking, feathers, ribbon/rickrack with ends sealed, coins, googley eye, plastic ants, Really any little item can be put into these bags.
I've never seen these bags made with sand. I'll have take a look at them.
I've also never used rice but have seem them made. Not sure how well it would work but I think it would be fine.
I print a list of the bag contents on a fabric sheet and put on the back of my bags. Here's an example...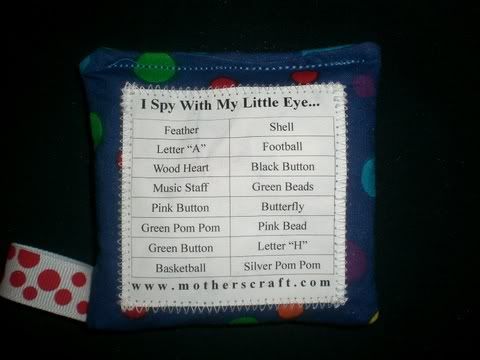 I put 16 items in the 4x4 and 24 items in the 5x7
Maremare...
I know what you mean about getting excited...
I do this all the time!
Oh and I love that kitty fabric. Should of bought a lot more of it. I use it all the time!