I made these out of my stash of worn out socks. Yes, I kept worn out socks because I liked the material and I hate throwing things away that "might come in useful one day". Well, those socks finally did. Sew simple, I'm only showing the FO.
Tada: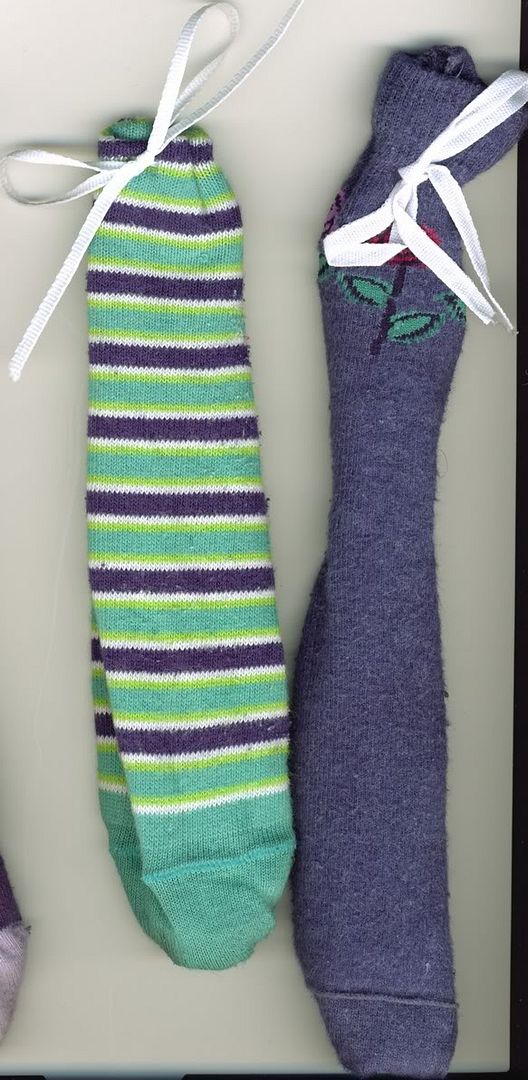 Not a great scan, I know, but my scanner is tempermental, and it died again before I could get better one.
'Tutorial': Take two old socks. Turn one inside out (this really isn't essential, but will keep the inside looking nice), over your hand. Place other one (right side out) over the top, lining up heels as well as possible. Flatten so heels are on one side. Sew up the middle, cut of excess (worn side!). Thread ribbon/string/wool/etc with big needle around the top, pace DPNs inside, tie a bow to shut them in tight, and voila, no more loose DPNs all over the place, mixing sizes and makes.
If you're normal and don't have a worn out sock stash, this can of course be made out of any knind of material. You might want to reinforce the ribbon holes with eyelets, but when using socks, the material doesn't unravel anyway.