Gah! These pictures are long overdue. AttieNichole sent me this spiffilicious package a week or so ago.
This is a closeup of the mushroom applique on the repurposed skirt. I love giving secondhand clothing a new fun life like this. So me!
The sweetest little patchwork pillow for my dorm. Yes!
Well this is a less than perfect picture of the FRICKEN AWESOME crocheted bag. It is so huge, way huger than it looks here.
Uh...I don't know how I didn't get pictures of all the other extra stuff. D:< <--Mad at myself face. I got a notebook, super big, plastic shopping bag, reusable water bottle and this handkerchief.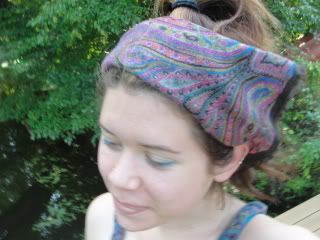 Thank you so so much generous partner, organized organizer and groovy swap people who made this great!