I received from t33ng1rlsqu4d! Prepare to be jealous, my fellow Twi-fans.
First in the package was this BEYOND amazing tote (Please ignore the cat in the corner. Apparently, Mocha runs with wolves as well). I didn't get a picture of the fabric she lined it with, but it's incredible! Black and white chess pieces galore. This is definitely going to become a regular fixture in my daily accessories.
MY OWN JACOB. Oh my goodness. He's quite a bit bigger than he looks in this picture, and absolutely PRECIOUS. The picture doesn't even do him justice. This is a seriously fabulous bit of crafting here.
The ultimate Twilight fan's piece: a Bella's bracelet. She whittled the wolf, which is SO awesome. I've been dying for an authentic bracelet with a wooden wolf charm, and now I have one! <3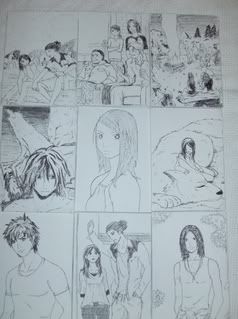 Next is a collection of NINE canvases featuring artwork from the Japanese Twilight books! Of all the foreign books, the Japanese cover art/artwork is my favorite. All nine have either Jacob, Bella, or both, and I am absolutely in love with all of them. :]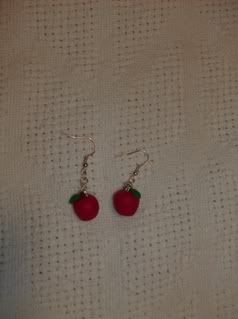 Last but not least, super cute polyclay apple earrings! I love them!
Thank you so much for such a great first swap experience, t33ng1rlsqu4d! I loved everything so much!