it's finally done! I'm pretty proud of this piece since I made the table myself.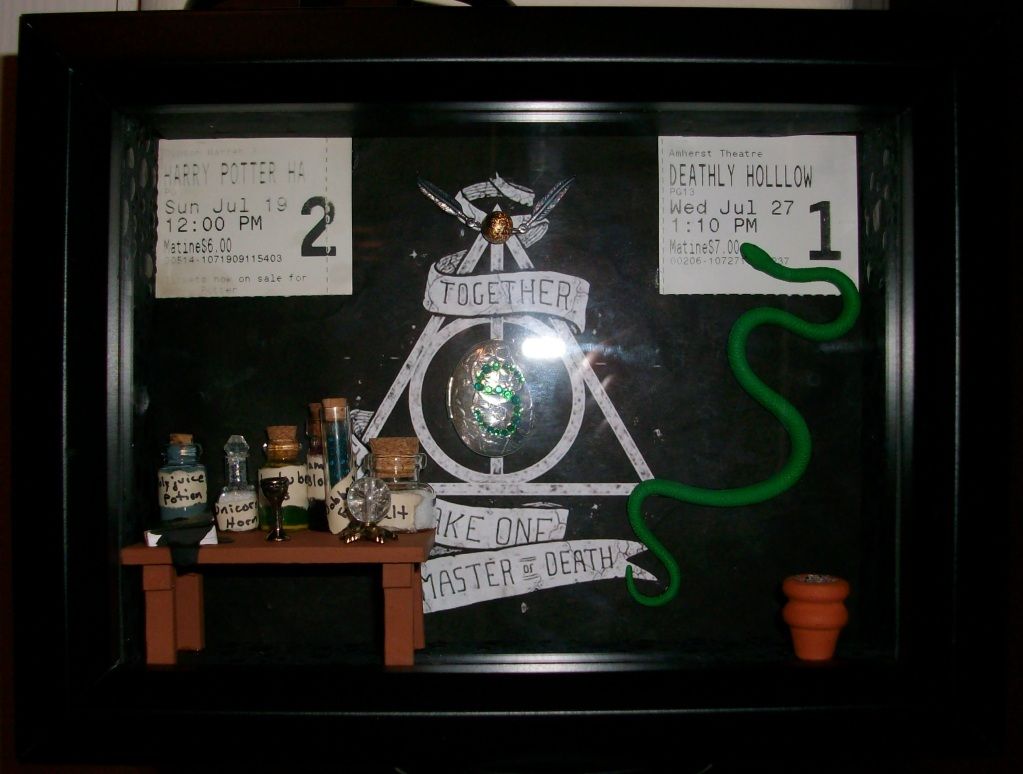 CLICK THE PICTURE TO SEE A LARGER VIEW
the table was made from 2 wooden tags I just happened to find at Jo-Ann's and 2 strips of wood each for the legs. I just cut off the odd end of the tag and cut the pieces down for the legs. then I filled in the space between each piece of wood with wood filler, sanded them down, glued everything together and painted it all. the one leg is a bit wonky and I don't know why, but I'm still really happy with it.
on the table you'll find Polyjuice Potion, Unicorn Horn, Bubotuber Pus, Salamander Blood, a Jobberknoll feather, Salt, Tom Riddle's destroyed diary, Helga Hufflepuff's Cup, and a crystal ball. on the floor under what is supposed to be Nagini is a flowerpot full of Floo Powder. Salazar Slytherin's Locket can be found in the middle of the Deathly Hallows symbol with a Snitch hovering above it. the movie tickets are for Half-Blood Prince and Deathly Hallows Part 2 (I'm guessing not too many theaters actually care what the tickets say as long as it's similar to the movie name. "Harry Potter and the Deathly Holllows Part 2" and "The Chronicles of Narnia: The Prince of Caspia" really got on my nerves...).
hope you like it!