so there's this sculpture I absolutely love called "End of the Trail". I thought I had seen this little pewter figure glued to a glass marble once when I was in this neat store in Sedona. well, we went back to Sedona on Saturday to get some rocks and so I could find that figure. I couldn't find it, so I just looked around the store at other things, thinking that maybe I might find something else with the sculpture on it. I found the jewelry rack, and when I came to the very last side, there it was; a sterling silver "End of the Trail" pendant. so I got it. it was just a pendant, so I needed a matching chain (which of course they didn't have. great idea, right? "hey! let's sell these pendants but nothing to put them on!"). there's a tiny,
tiny
bead store on the way out of Sedona, so we stopped there so I could look for a chain. I ended up getting the silver beads and the Sleeping Beauty turquoise beads to make this necklace. I wish SB turquoise wasn't so expensive. I would have got these pretty little ones I found so I could have more for other projects. oh well.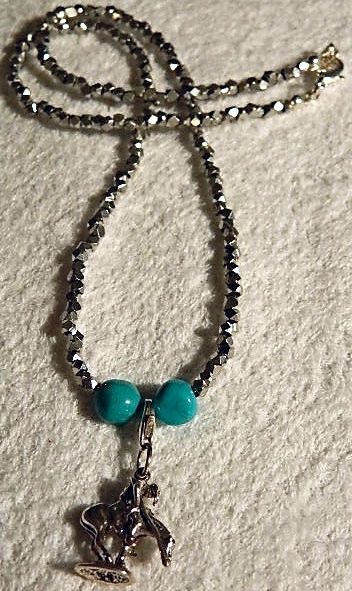 I love it! oh, and
here's a link
to a picture of the actual sculpture and its history.