now that my partner has received, I can share this awesome bag I made for our swap.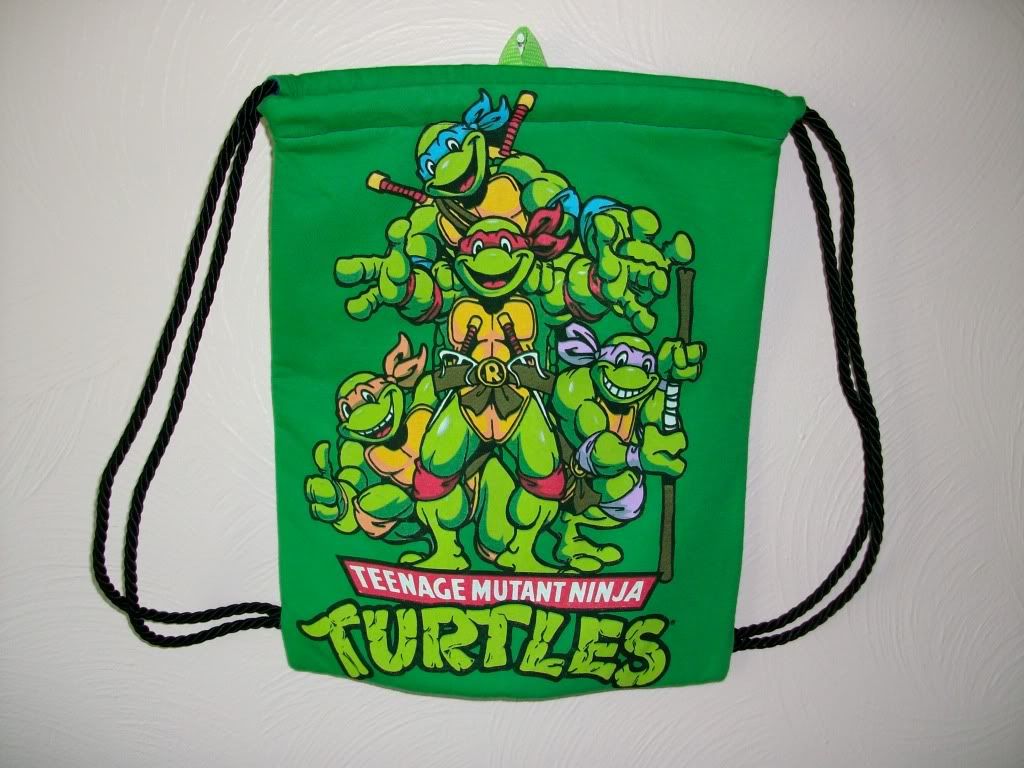 it was originally an XL t-shirt (so that I had plenty of material to work with, and since I can't cut straight lines to save my life, I needed it). it's made of 3 layers of material mainly because the t-shirt fabric is that amazingly annoying new material that is so light and stretchy that it would never even hold a soft cover book. I've got a layer from the t-shirt, interfacing that's supposed to be iron-on but doesn't cling to anything, and purple cotton for the inside color (her favorite turtle is Donatello, so I had to use purple since that's the color of his mask). I even used purple thread.
I want to post a tut for this since I don't see one on here, but I don't have one ready yet. as soon as I do, I will be sure to add it!
it is now 3:25 am as I start to type this. I stayed up when I should have gone to bed and made a rough tutorial.
materials that I used:
1 t-shirt
1 yard of heavy purple cotton for the "lining" (had some left over)
1 yard of medium weight interfacing (had some left over)
2
1/2
yards thick cording
9 inches of bright green nylon webbing (this is the item whose name escapes me in the tut)
purple thread
bear with me, this is my first tutorial.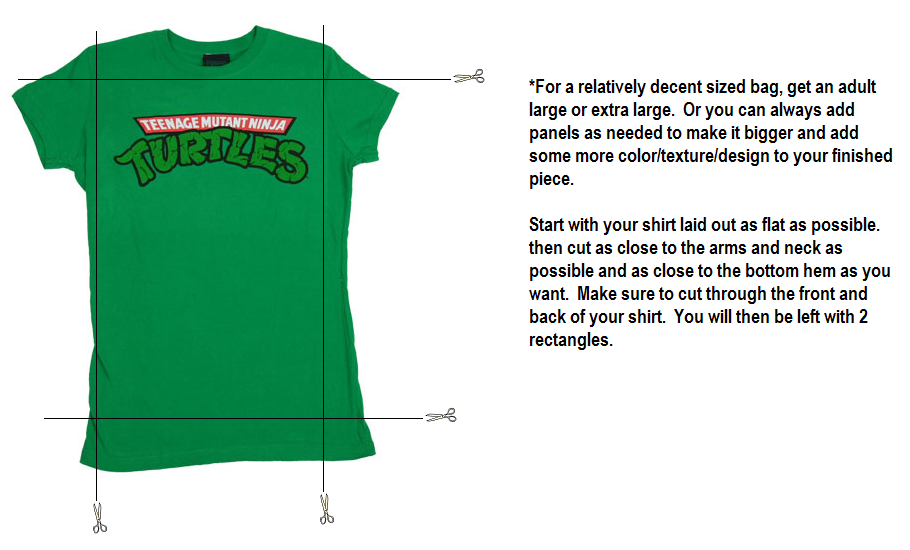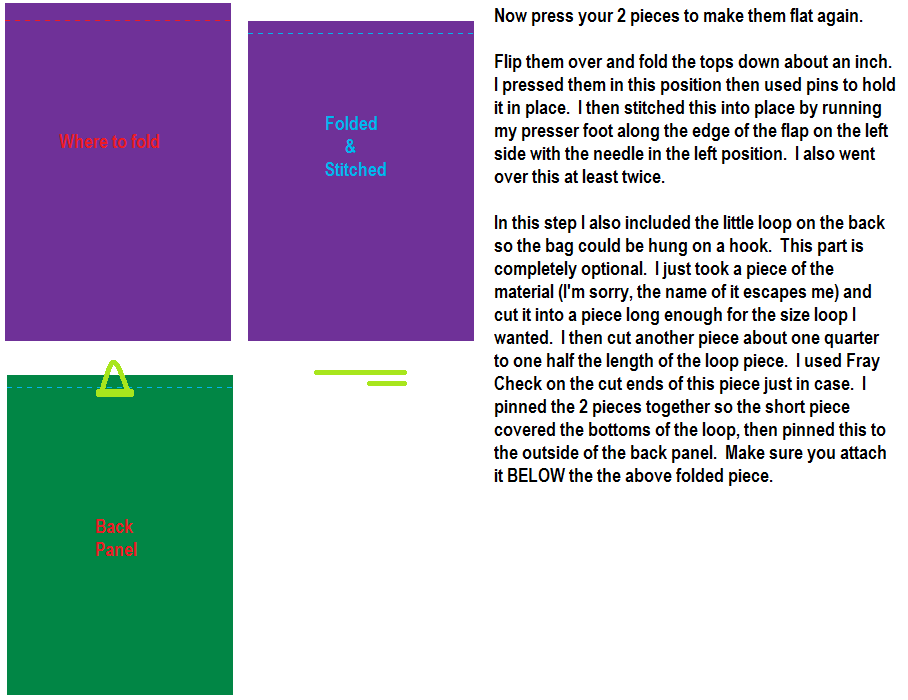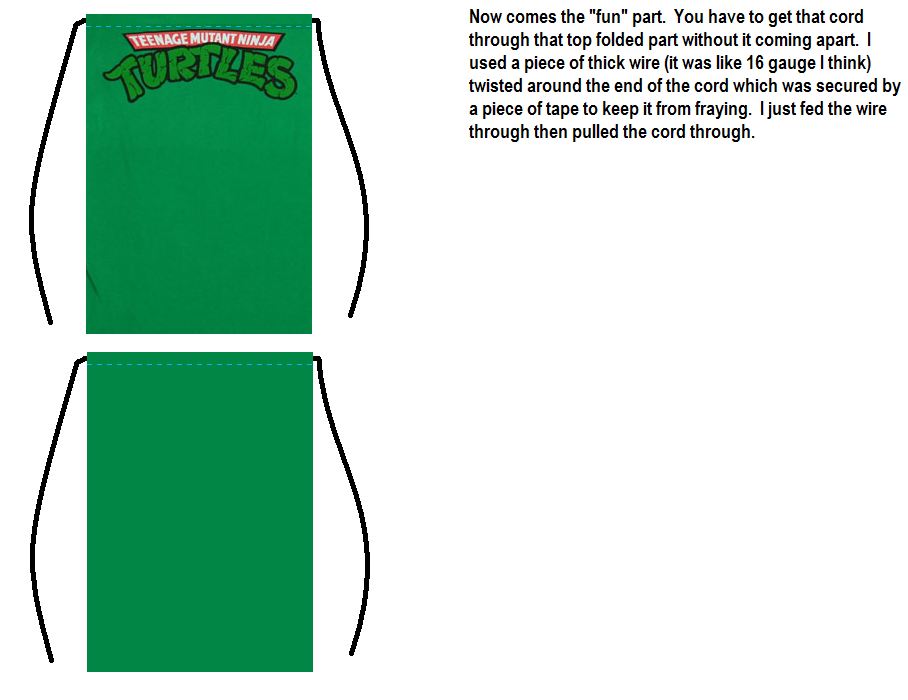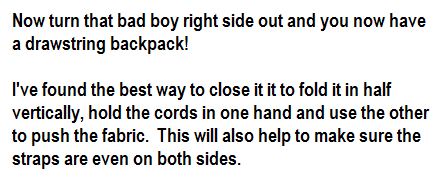 also, when I added the loop, I did like you see on school backpacks and stitched a square, then an X in the middle. for durability I guess.
one last step...after putting stuff in it and closing it...ENJOY IT! show it off to your friends. be the envy of everyone you see.
I hope that's clear enough. if not, MESSAGE ME! I'd be happy to try and help you figure out what you may be stuck on. and remember, you can play around with the tut as needed. like, if you have a shirt like the one I used in the tut where the picture would be totally lost in the final scrunching, you can add fabric to the top to make it longer. or you can make the whole thing shorter and have a square pack. or add to the side and have a wider one. do what you need to do to make it work for you. and remember...HAVE FUN!
and don't forget, if anyone makes one of their own, link it here so we can all see the awesomeness of what you created.
and it is now 3:46 am as I hit post. I'm going to bed now.