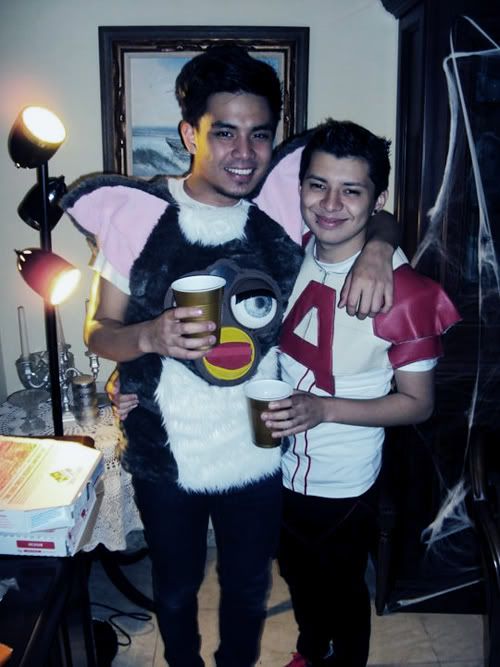 In between finishing my boss' collection, sewing a wedding dress, and other custom orders, I managed to whip up these costumes for my BF and I. Of course, our only action shots would be photo-bombed by booze.
I was originally going to be the Captain Olimar (complete with Pikmins) I've been trying to be for the fourth year in a row, but time yet again put it off. I considered not dressing up this year because of my busy schedule until I saw this post
https://www.craftster.org/forum/index.php?topic=355981.0
by user
JessMeg
I knew I just had to be a Furby.
12 hours later, I came up with this.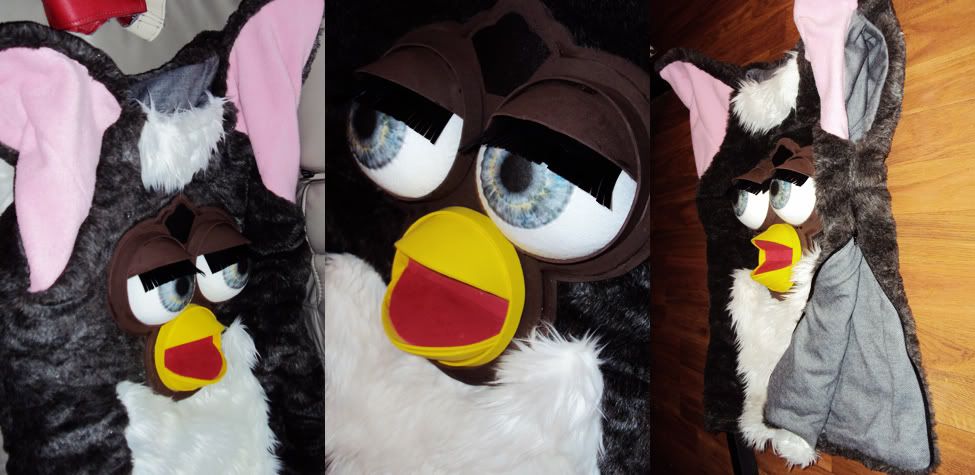 http://bit.ly/ckD0SK
Click for larger image.
It's basically a shirt pattern with ears sewn onto a raglan sleeve. I mostly used fur, foam sheets, and Liquid Nails adhesive. Fully lined with a zipper so it's super comfy, minus the glue fumes you inhale as you put it on. I used Styrofoam balls for the eyes and mouth and covered it with craft foam. Eyelashes and sensor are made of card stock. The iris is iron-on transfer over plain white knit fabric stretched over the Styrofoam balls.
The family dog got to it an hour before I had to wear it so I had to replace eyelashes and patch up the mouth which he chewed on. Super Glue to the rescue. I'm also usually thrifty, but I only had two days to whip this up so I ended up spending quite a lot than I intended. $20 for fur and lining, $20 on the foam and glue, and $10 for a package of iron-on transfer.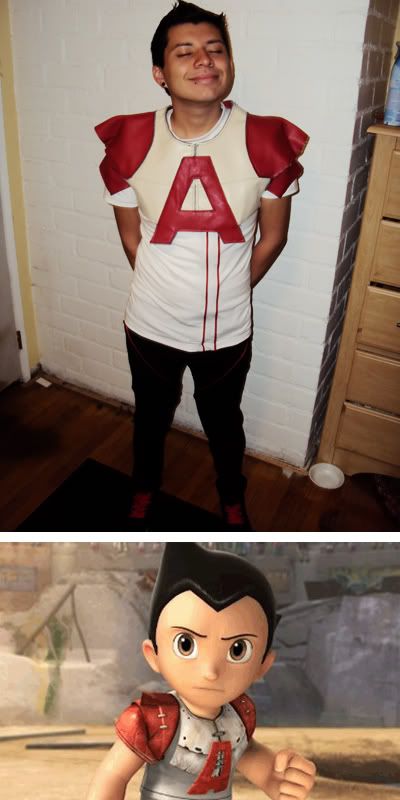 My BF wanted to be AstroBoy, but I refused to let him walk around in underwear and some boots. So his costume is derived off the new movie made up of a shirt, pants, and a leather armor. The shirt and pants are corded along with some coverstitch details. The armor (not pictured) is enclosed by hidden snaps in the back and it's basically a normal bodice with modified sleeves that are top-stitched on top of the bodice rather than into the bodice. It also has some pretty nice details that the picture doesn't reveal.
I actually finished this in August since he knew from last year that he wanted to be AstroBoy. A yard of leather of each color equals up to $18. The shirt and pants fabric I got from a remnants store adjacent to a large fabric store that charges $2 per pound. A snap kit for $8 and some red lace for his shoes for a dollar. So his costume cost less than $30.
Thanks for looking guys and it's nice to be back on Craftster!
EDIT: From my friend's camera.