So, I went into Lewis Craft today to get some stitch markers for a knitting project that's been unfinished for
much
too long and came out with some other things I didn't intend to buy. (Isn't that always the way? I also have problems when walking into bookstores and anywhere that sells DVDs and Cd's... but back to topic).
I bought a wreath made from twigs/branches and immediately thought of a crafty project. I have a shoebox full of shells and sea glass I've collected from various summers on the beach and decided to make a shell wreath to hang on the hook on our door. (It's been bare since the Xmas wreath came down early January and needed something more year-round). So, I just started hot-gluing small shells, bits of sea glass and buttons (just for fun) to the wreath without too much planning (I just made sure to layer the bigger pieces under the smaller ones). I stopped gluing before I went overboard cause I was worried it would eventually look too crowded.
Well, here it is...
On the inside of our apartment door (its new home):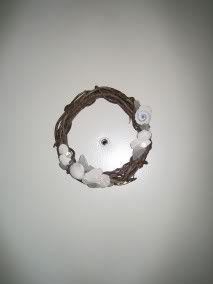 Outside (different lighting):
Closeups:
P.S. I've concluded that anything can be glued to a wreath and look pretty.
P.P.S. I'm really proud of this project cause I've had a serious creative metal block for the last couple of months (at least)... I think this is a sign that its going away!