hey crew ! so sorry for not updating here ! i recieved a COOL package #1 from sweety28303 i DID post on here but where my post went . . . no idea
anyway thankyou SO much for my awesome package i got . . .
a supercute beanie and skinny scarf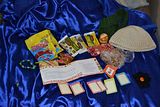 yummy teas,sweedish fish !!!!! my kids LOVE these,turtle cookies (which sadly didnt travel well but still tasted good
some granola bars AND some twix !!!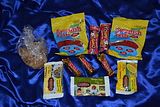 a very CUTE " BOO " cross stitch a cute crochet flower in black
, some AMAZING red & green dice jewellery ! the YUMMIEST smelling pumpkin spice candle OMG !!!