My sister got married last weekend, and I am finally posting all the crafty things I made for the event. She asked me to make jewelry for the bridesmaids. She wanted bracelets and earrings. She and I shopped online together for beads and found some great pearls. The jewelry turned out really nice.
Then my mom found a list of items to put in a bridal emergency kit. Since I was the maid of honor, she suggested that I put one together for my sis. So, I went a step further and knit a small purse to fill with emergency items. Her bridemaid dresses were green, so everything has some green in it to coordinate. Here are the pictures.
The bridal emergency kit...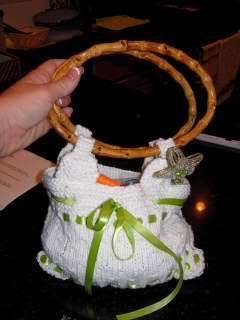 A close-up of the top of the bag...
Here is a close-up of the beaded flower I made to pin on the bag....
Here are the contents of the bag. I included hairspray, hairpins, safety pins, tissues, hand wipes, etc...
Here is a bridesmaid bracelet...
And the earrings...
I had a lot of fun making everything, and the wedding went very well. Thanks for looking.