so for halloween, I decided to be an obscure character from an obscure comic book that nobody's ever read, and it required a belt.
The goal:
to make this:
look like this:
I kept putting it off, but finally, at eleven the night before halloween, i managed this: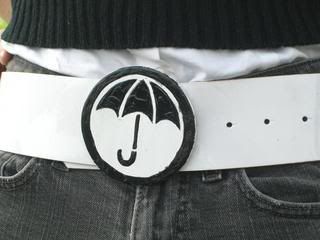 cheating a little bit. I went back to the store and found an identical belt but in white. I still embellished the buckle myself though.
I just sanded it, painted it wait, made a stencil of the logo, traced it onto the dry paint, then filled it in with puffy paint to make it more raised. It was very last minute ):
If anyone can give me some advice on how I could have done it better, by all means share!
I hope I put this in the right place. Its sort of jewelry in that its an accesory, right? or at least it counts as a trinket? If there's somewhere else it should be, please let me know. Anyways, thanks for looking!