My husband and I are going away for a long weekend next month and I realized my suitcases are falling apart. I don't want to have to check a bag so I started looking for carry-ons when I found this one and fell in love:
http://www.macys.com/catalog/product/index.ognc?ID=510986&cm_mmc=Google_Feed-_-6-_-67-_-MP667
$340 was just a little more than I wanted to spend though (about $300 more actually)
So I decided to attempt my own.
I started with a kids rolling suitcase from the thrift store: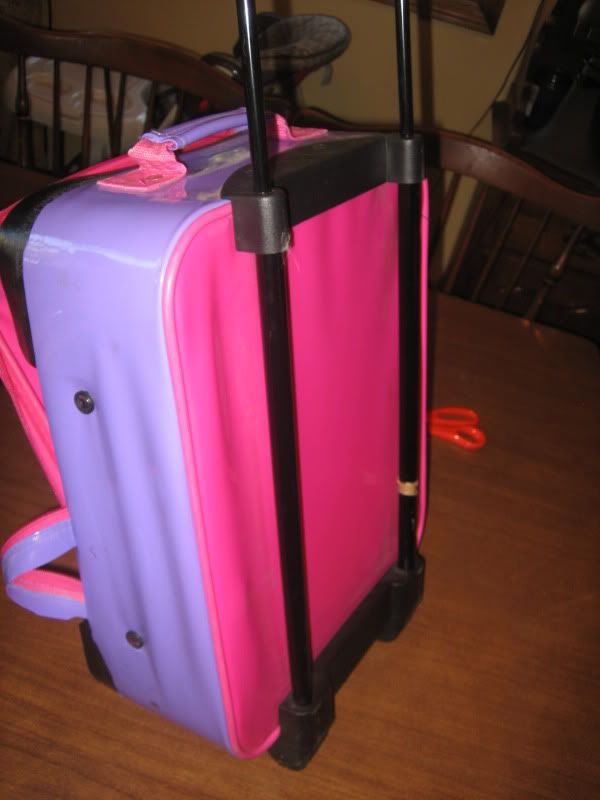 From this I cut off the rolling part and zipper. I then drafted my pattern using the dementions from the original bag.
I started taking pictures of my process thinking I'd document it in case I wanted to make another, but about 1/4 of the way through, I started having issues and stopped taking pics.
In the end it worked out ok, but if I make another I'll change a few things. I forgot to sew up the pockets on the inside to make smaller pockets. So there is just one big floppy pocket inside. I used a heavy weight interfacing but the bag still isn't stiff enough. I'd add some plastic canvas to the sides and bottom to make it stand up on its own.
To attach the wheel part to the bag I sandwiched it in some plastic canvas that I covered in fabric. Hand sewed it together at the top and bottom to secure it, then hand sewed the bag to it.
Here are the pics, C&C welcome: