I wasn't sure exactly which category this should go in. I hope this was right.
Anyway, I recently came across this picture frame I had decapogued in an art class a few years ago.
It was one of those frames that had a little wooden "stilt" on the back to hold it up. However, it had already broken off by the time I came across it. I was really inspired by all the clippings I found, so I wound up using it anyway.
But now, I have a dilemna.
There is absolutely no way I can hang this frame, and I am pretty much out of ideas as to what I can do to make it functional. I wanted to eventually sell it on my etsy store, but as it is, I can't sell someone a picture frame that won't stand on it's own and can't be hung up.
Front:
Back w/ half my face cropped & bad hair: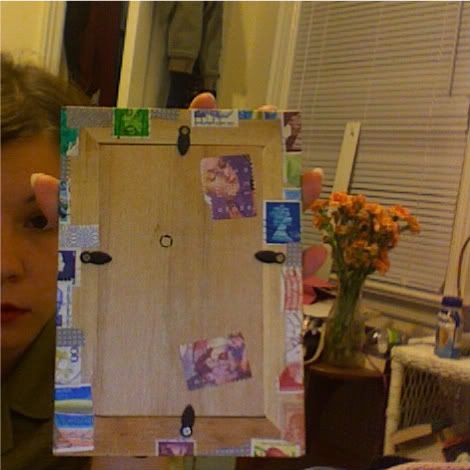 I had thought at one I could unscrew part of the back of the frame, and slip something around the two screws that would be sturdy enough to hold the frame/won't fray or fall apart.
However, I'm not sure what kind of material would suffice?
If anyone has any ideas on how I can make this frame hang/stand up on it's own I would really appreciate it!