So I've been thinking about my costume for this year for a while now and a few months ago I decided I would be a ringmaster.
I'm obv not going to buy the costume, they're all 'sexy ringmaster' (read: naked) and I don't want to waste my sewing abilities.
So I found myself a fantastic pattern:
http://simplicity.com/dv1_v4.cfm?design=3685
I'm pretty happy with it, I don't like the bell sleeves or the corset-type front closure. I can fix the sleeves no problem, I just don't know what to do about the front.
I was thinking maybe something like this (check my MS paint skills)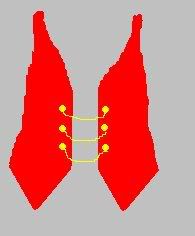 So I'm thinking gold buttons with a chain linking them.
Does such a thing exist? Would it even work? Any other suggestions?
The deciding factor between this costume and my other options was the fact that I get a top hat AND whip. SO excited! Thanks!