This is my first project using a pattern. I have a dress i want to make for me, but i figured i would start small, as in 2 year old small. I found this and figured it would be perfect. I decided not to make the hat because we are not going trick or treating with it, rather using it for ritual- i'm practicing Wicca and Samhain is an important holiday for us. Anyhow, i thought i did pretty well for my very first try at using a pattern. I just need to change the back fastening, i bought the wrong type of velcro, i'm thinking of doing either snaps or a zipper.
The Model, My princess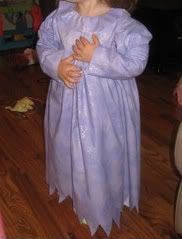 The Back
The Dress
The Bodice Close up
Simplicity stock photo.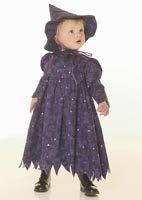 Please leave comments