Hello fellow crafters! Been a while since I've posted anything... So without further A-do:
I have wanted to learn embroidery for EVER, so I bought myself the "Sublime Stitching: Hundreds of Hip Embroidery Patterns and How-To" and learnt! It's a great book with fantastic patterns, so I highly recommend it! The following is my VERY.FIRST.EMBROIDERY PROJECT.EVER!
The blue TARDIS, for my best friend's husband/my friend/boss:
[flash and sans-flash]
And the pink TARDIS for my best friend!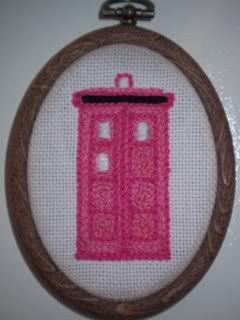 [flash and sans-flash]
They are birthday presents, since their birthdays are two weeks apart. Both of whom are BIG Dr. Who fans, and got me addicted as well. Speaking of addictive... Embroidery? SUPER ADDICTIVE! Lots of my friends are receiving embroidery this Christmas... hahaha. These pieces are almost entirely split-stitch, with a little satin stitching. I may have broken some rules, but whatever. I'm a rebel with a needle! ;P Both are smaller, about 3 inches tall, and once I got crackin', only took me a day or so.
Thanks for looking!