Okay, so I just finished my first attempt at an Amigurumi plush! I taught myself how to crochet the day before yesterday, and then I decided that since I love octopi I would do a simple octopus first. I finished him yesterday, so overall he took me about 2-3 hours to do, which is a long time for something as simple as this, but hey! I had fun! And I was watching movies and reading books while I made him, so I stopped periodically, lol. Anyway, here are the photos, enjoy!
Here we are looking at six of his adorable little tentacles! (I had not yet finished the other two)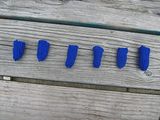 And here is his cute little head/body just after I put on the eyes. No mouth yet!
One of his tentacles:
The making of his tentacles:
One tentacle attached, seven to go! And look, he's smiling!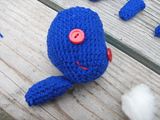 All eight are on there!
And now a couple of action shots!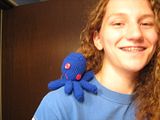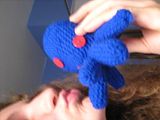 That's all! I named him Squirt, because there are just too many octopi named Inky! So then, Squirt and I shall now resume our bonding time whilst I plan his next friend: Popeye the Piggy!
Enjoy!