I am so thrilled! This past week I have completed two bomber hats. Unfortunately the first one was too small...but the next one fit perfectly! I put pictures of both of them below. The first (with grey faux fur) I sent to my sister, down in California, who is now adoring and caring for it as is proper.
Now, for the picture feast!
The first hat (grey fur and purple, brown, and gold tartan pattern)
Neither of those is particularly great, but they're all I have :/
Second hat (brown fur with same tartan, larger pom poms.)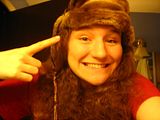 Yeah I'm a dork....deal with it!
Typical MySpace pose....ha ha
POM POMS!!!
Funny story: When my drama teacher saw the huge pompoms he was all, "Amy, your head is being eaten by dingleballs!" OH gosh I love Mr. Sherrard....
Anyhoo, any comments and or criticisms are welcome! The pattern is from a Threadbanger tutorial...I can't find the link right now but if you go to their site and search for Bomber Hat it should come up.
Cheerio!