I have a little party to attend this weekend and I'll be having to wear a "fun and/or silly hat".
...I do not own any fun and/or silly hats.
...so I turned to the internet and found a tutorial, located here:
http://craft-with-confidence.blogspot.com/2010/10/mad-hatter-hat-tutorial.html
. The tutorial was amazingly easy, she was detailed enough and provided pictures for everything!
I thought it suited my needs so I got to crafting. Hats are completely out of my comfort zone, but because the tutorial was so detailed, I had no issues at all.
Along the way I made some changes...I wanted a somewhat ruffled front to the brim, so I made it slightly bigger.
I used a purple fabric and covered it with tulle, but I didn't quilt it. Instead, I used iron on interfacing for the sides and brim and a stiff sewable interfacing for the top. I like the thinner interfacing on the brim, it allows me to form it however I'd like.
I definitely suggest drawing your pattern out on paper first (like the tutorial suggested)..it saved me on a few measurements!!
I chose not to duplicate the Mad Hatter's hat, but use the style as my base.
At first, I added ball chain...I'm on the fence as to whether I should keep it or not: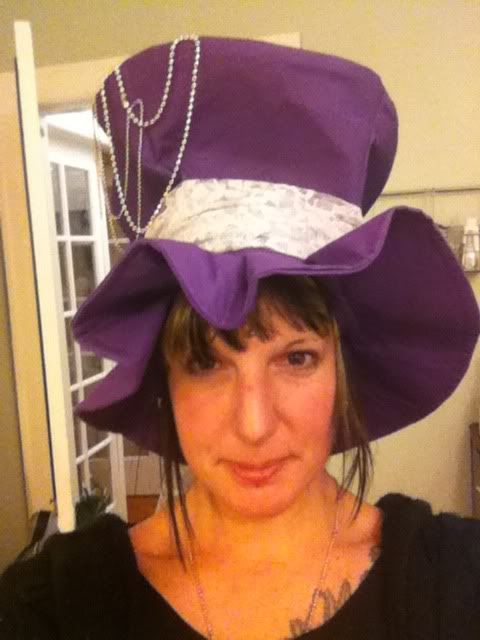 And then I thought *silly*..so I put a doll I received in a creepy doll swap into the band:
Not sure...I'm thinking of going back to the ball chain. Sorry for the quality of pictures, I only had my phone. ..but thanks for looking!