Yus. We bought our first house. An upgrade from a one bedroom apartment to a three bedroom house with formal dining, two baths and a huge basement. Even better, it wasn't a foreclosure so it was able to be lived in immediately.
As is usually the case, we completely disagreed with the decorating choices of the former home owners. (It worked for them though.) Sooooooo we are on the long route of renovations and decoration.
(slow goings are from the husband being in school and having papers to write... but school is over soon!)
Bookmark us and watch us as we go! Give any tips or inspirations! We sure need them.
Before = the night we moved in
During = "limbo" or the stage we rest in before we can get serious
First off is the living room. You should know that I hate red... so this place is a bit of an eyesore to me.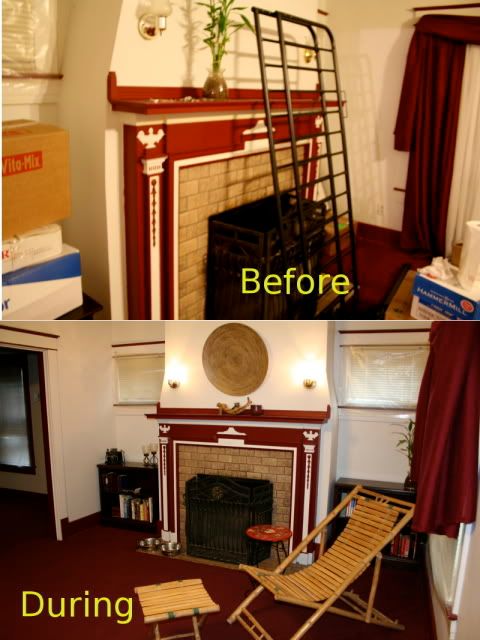 rip up horrible carpet, try to salvage wood floors
paint, paint, paint, paint. we're thinking semi-glossy espresso for the fireplace and all the wood trim (no energy to strip the paint...), matte gray for the walls, cream ceiling
accumulate more free furniture or thrift it (there's a whole other side of the living room you can't see that has our falling-apart couch
Next is the dining room. Same story... red!!!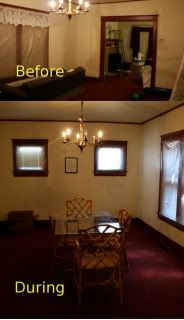 rip up carpet (the wood is incredibly beautiful underneath but needs a makeover)
get a bigger table/more furniture and stuff
paint. we were thinking a gray-blue but lately I have had an inkling to have a burnt orange color scheme. any ideas on what colors would work well with that?
Next up is the acting study and guest room/future guest room alone/future-er kid's room alone. Take note that I am so mad at the former homeowners for this room... It had beautiful hardwood floors which... they... they painted PURPLE! Good golly, miss Molly, that can't do!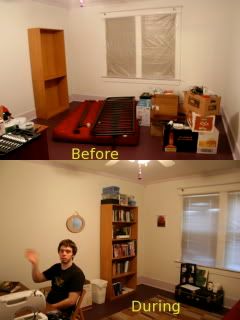 There's the husband, slaving away at writing his paper.
fix that darned floor... restore it's natural beauty
pick a wall color and mean it... no more changing my mind a lot (help???)
turn into the guest room alone (involved completely remodeling the third bedroom (pic below) and bathroom)
Now I will show our third bedroom a.k.a Blue Room, Smelly Room, Don't Go In There. Acting Store-All-The-Painting-Supplies room, future study, future-er study/guest room when purple room is used up by kids.
Former owners seemed to use this room as a work-out room/guest room or something. So it smells. And vinyl sticky tiles over hardwood? ...tisk, tisk, tisk. That's going to be a PAIN to remove and refinish. Any tips on how to get rid of the sticky residue? And how to quickly remove these tiles without spending hours on our knees, peeling?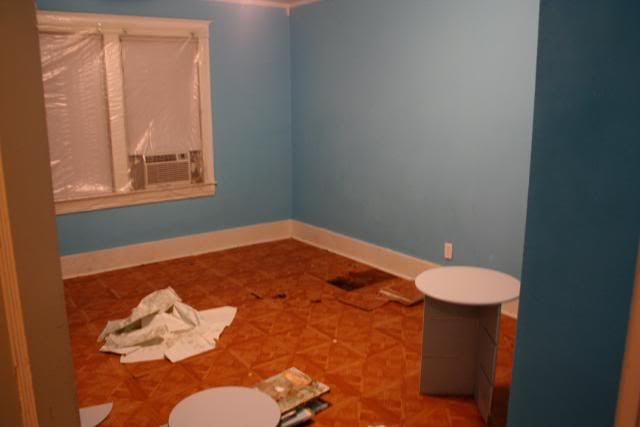 get rid of that tile, finish floors
repaint (hopefully repainting and getting rid of the tile will also get rid of the smell)
when the bathroom is re-modelled(sp?) it will cut into the size of this room a bit, so the feel of the room and space of the room will be drastically changed
Anyway... I will post more rooms as we come to them. I'll just start off with these bits. Inspire me, please! We have a lot of work to do.
[/list][/list][/list][/list]