UPDATE AGAIN!
I now have the photos of our living room when all the furniture is in and we can actually
live
in it!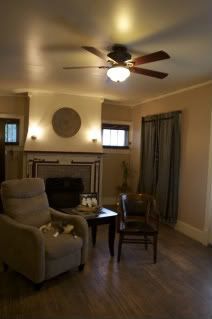 The mantle is currently a mess because we are going to have a friend strip the paint for us. We just don't know when. It is the only evidence of the horrific red in our living room. (weehoo!) You can see my boxer mix puppy, Maccabeus, checking out what is making all those light flashes.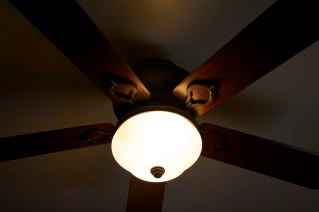 Our new, fancy ceiling fan that took forever to install because of this hole:
(the former fan was a flush mount, so the over-sized hole didn't matter. but this one isn't flush mount, so it mattered greatly)
and because the instructions were HORRIBLE.
But it is a 100% upgrade from the old one. I don't even want to describe it.
Here's a close up of how our floors look in the corners of the room:
Love it! Why would the former owners hide that under hideous carpet?!
And a picture of my cat, Tempy, enjoying the way things look: