I recieved today!!!!!
Everyone prepared to wist because Beeker's package is A-M-A-Z-I-N-G!
Beeker your package touched me and made me cry. Thank you so much for the sweet and extremely thoughtful love you put into the package.
As you all know Aiki & I are hugely through when going over our swap packages so set down with a cold or hot drink because this is going to take awhile. Since Aiki looks like she's going to post after me your all going to be here awhile, lol.
I want to apologize yet again about the pictures. DH & I are saving up for a new camera because other others ones are too temperamental.
First here's the collage of all the whimsy goodness.
This is my whimsy "jar". It's a record purse!!!! Oh my gosh I about fainted when I saw it. I wanted a record purse so much. Two things I am always teased about are my huge extensive music collection and my collection of purses. I love this so much and I am going to start carrying it like right now.
I love it.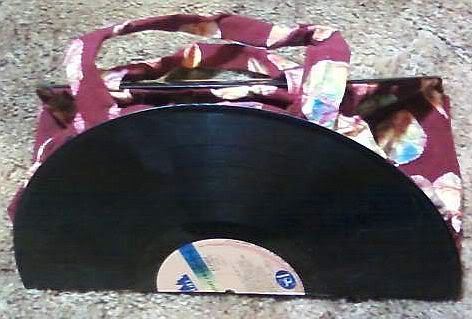 DH & I spent about fifteen minutes piecing all those songs together, lol.
I have been going through a really emotional hard time lately. I cry at the drop of a bucket so when I started unwrapping my next whimsy I cried at each and every single one.
What made me a bawling mess?
My beautiful and will always be my most treasured set of Russian nesting dolls. Look at the details Beeker put into these. They are amazing.
Each is a character from Peter and the Wolf. Each has the special musical instrument on back. Beeker also included the score to Peter and the Wolf.
All of it made me cry. I study Opera and I am proud of my Russian/Nordic heritage. To receive something beautiful like this I will truly treasure all my life.
Each of the nesting dolls had whimsies inside. I did not take some of them out for pictures because they are beautiful and tiny.
Now on to my third favorite and jumping up and down whimsies. Look at all my keys. Not any ol' type of keys each are special. Look how pretty they are decorated? Thank you Beeker I truly love them.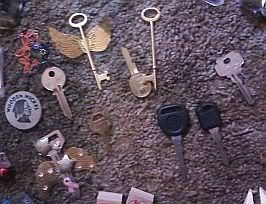 Fourth whimsy and it's another jar. It's an owl wood gourd. Beeker has mad wood burning skills. I love it so much and I can't stop admiring it. I am scared to show it to my Mom she will steal it.
Beeker also sent in the whimsies key brads with little keyhole matching brads and they are so cute. My DH's camera is acting up so he couldn't get a good shot.
Then finally I saved the best for last.
It's the exploding chicken with chicken food and then after all said and done chicken poop lip gloss. I laughed so hard.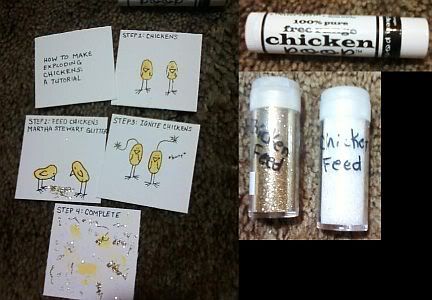 The one thing I wanted and hardly can find. I got feathers. Thank you so much! I desperately wanted these. I can now fairy craft.
You can't see to well but Beeker also filled pretty tiny bottles with seed beads and glitter. I love them so much and they are going in a special place, like on a pretty chain so I can wear them.
There were on my Wists and I squealed when I saw them.
I love everything the beautiful gourmet teas, delicious journals and notecards. I absolutely adore the smiley face envelopes.
I am a huge paper crafter and Beeker sent me rubber stamps & cute die cuts.
I love all my beads and charms. They are all so beautiful. I can't stop admiring the charms.
I love all the fabric. Now, I am dying to make a small hand warmer. I just bought a jacket and it would match them perfectly.
Then there are the whimsies that made me laugh like the organizing box. If you all have been reading you know I am decluttering and organizing. I was thinking last night I needed another box and wondering where I could get one.
The sequins really made me laugh because of the night I sorted 10,000 sequins. I love these sequins because they are already sorted, ROFL!
There's my whimsy book.
Thank you again Beeker for being the bestest swap partner. Now, I have serious swap anxiety. If it's not up to par you don't be afraid to tell me and I will overspoil.