Speaking of scars, the insides of my legs are scarred up aswell, and I got them tattooed to hide them. Exceptionally effective!
Here is a picture of my legs, theres only a few that I have on them-
You'll see a Jhonen Vasquez tattoo, and the start of a custom work my artist is doing with inspirations from Happy Tree Friends and Zombie movies.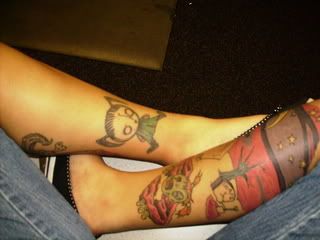 Here is a close-up of the back of my left leg, it's Mark of the Dark Lord-inspired (extra blood, of course).